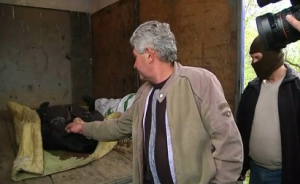 (Reuters) — Gunfire erupted near a makeshift checkpoint manned by pro-Russian separatists near Slaviansk in eastern Ukraine early on Sunday (April 20), killing at least two people.
Separatists gave a higher casualty figure, saying they had come under attack from Ukrainian nationalist paramilitary forces.
The incident represented the first fatalities in eastern Ukraine since a four-way agreement was reached last Friday in Geneva to de-escalate the situation in eastern Ukraine where separatists are rebelling against Kiev's pro-western leaders.
Though police on the interior ministry website said one person was killed and three others received gunshot wounds in the incident involving "two groups of civilians", Reuters witnesses at the scene saw two dead bodies in a truck.
A separatist fighter put the death tally higher, saying the attackers – whom he said were Ukrainian ultra-nationalists – killed one separatist immediately and two others in ensuing shooting after arriving in cars at the checkpoint and opening fire.
One man wore combat fatigues and the other was in civilian clothes. Their bodies were lying in a truck, one of them covered with a blanket.
"People jumped out of Jeeps and started shooting at us. They threw stun grenades. Our people started running in various directions when somebody shouted 'down!' A sniper was shooting those who tried to run into the village. The first who ran was killed by a sniper right away, then there was a second dead. There was another man, he was crawling, he wouldn't get up, he was just lying there waiting for a wonder," activist Vladimir said.
"I cannot imagine what would happen if those four vans would pass through (checkpoint) when people were getting ready to go to church, when they were just about to start celebrations, when everyone was certain there would be no attack," Vladimir added.
Local people were laying flowers at the scene and touching the bodies in a gesture of farewell.
The reported incident will shake hopes of an Easter truce and a speedy demilitarisation of the restive region under the Geneva accord worked out between the United States, Russia, Ukraineand the European Union.
A self-styled mayor of Slaviansk and a pro-Russian supporter Vyacheslav Ponomaryov, who also believed the attackers were Ukrainian ultra-nationalists, said from now on his fighters will have no mercy for anyone.
"There was an attack on our checkpoint near Bylbasovka (village). Three of our people died as a result of attack. On their side we can so far see one dead. But our fighters tell us they also carried losses apart from this one dead whose body is in our possession."
"Until today these were just clashes with minimal losses, but now no one can expect any mercy from us."
Monitors from the OSCE human rights watchdog have moved into the area to try to persuade pro-Russian separatists to lay down their arms.
Armed separatists are in control of Slaviansk, one of around 10 points in the Russian-speaking east of Ukraine where localised rebellions have broken out against Kiev's pro-Western leaders following Yanukovich's overthrow.
Interior Minister Arsen Avakov had no word of the reported incident on his Facebook page, where he usually posts updates on any clashes.
The rebels, in an action which Kiev's new rulers say is inspired and organised by Moscow, have occupied state buildings including police headquarters and state security offices in several localities in eastern Ukraine and declared support for an independent "Donetsk people's republic".