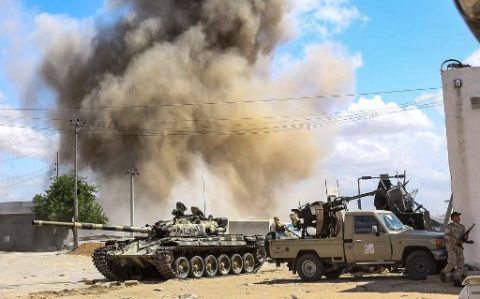 (Eagle News)–The Philippine Embassy has begun evacuating Filipinos from Tripoli, Libya  following the continued fighting there.
The Department of Foreign Affairs said the first batch consisting of seven Filipinos– three hospital workers and four students– were evacuated by the Philippine embassy this morning to Tunisia.
From there they would be repatriated to the Philippines.
The DFA said it shouldered the cost of the trip of the four Islamic School students in Tripoli while the Overseas Workers Welfare Administration paid for the trip of the three employees of the Ali Omar Ashkar Hospital.
Embassy Chargé d'Affaires Elmer Cato said 13 more Filipinos who want to be  repatriated are expected to be evacuated in the following days.
Cato said the Filipino who was injured by a rocket attack, Rolando Torres, also wants to come home.
The government has raised an Alert Level 3 over Tripoli and its nearby cities, calling for the voluntary repatriation of Filipino workers there to ensure their safety.