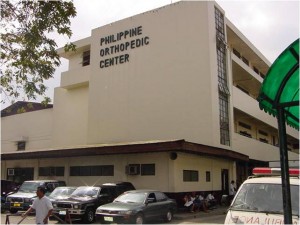 MANILA, Philippines — The Aquino administration will not totally privatize government hospitals in the country but will only implement partial privatization as part of government reform, Malacanang said yesterday (April 7).
Presidential Spokesman Edwin Lacierda cited the case of the Philippine Orthopedic Center wherein the reforms for the hospital were approved by the National Economic and Development Authority (NEDA).
It is a public-partnership project (PPP) under a build, operate, and transfer (BOT) scheme, he said, explaining that the private entity will design, build, and finance the project and they will operate and maintain the hospital for 25 years.
While there is partial privatization, it is not 100 percent privatized, he said, noting that out of 700 beds, only 30 percent will be for private use.
"Thirty percent of that is only 210 beds, and there would be 490 beds for public use, so 70 percent will still be for public use," he said.
Regarding fears about rising hospital bills, he said it will not happen at the POC.
"Rates in POC will be competitive. It will be more or less the same as other government-run hospitals, like the Heart Center and the National Kidney Transplant Institute," he said.
"And for indigents, PhilHealth will cover the bills and the government will continue to subsidize the POC for five years. The government will not relinquish management control and supervision of the Philippine Orthopedic Center."
Lacierda also said that a governing council will be created to supervise the implementation of the rules and regulations of the POC to control unfair adjustments in rates.
"It is not privatization. This is part of the governance reform with respect to public health," said Lacierda in response to reports that the government is trying to privatize 70 to 100 government hospitals across the country.
It was in 1945 when the Philippine Orthopedic Center (POC) was originally organized in Mandaluyong  by the American Army as the Philippine Civil Affairs Unit (PCAU) No. 1.  Its main goal was to take care of civilian casualties during the liberation of Manila and its suburbs.  When  it was turned over to the Philippine government, its functions were redirected to look after accident victims and orthopedic cases. Its name was later changed to Mandaluyong Emergency Hospital then, to National Orthopedic Hospital.
In 1963, the hospital was relocated to Quezon City with an authorized bed capacity that was increased from 200 to 500 then to 700. In 1982, it was renamed National Orthopedic Hospital-Rehabilitation Medical Center (NOH-RMC), and again to Philippine Orthopedic Center in 1989, by virtue of Batas Pambansa No. 301 and Republic Act 6786, respectively.
 (Eagle News Service with a report from the Philippine News Agency)