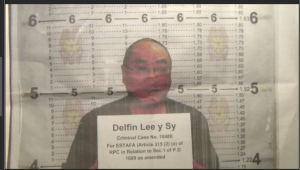 Manila, Philippines — Globe Asiatique founder and president Delfin Lee is now detained in a detention facility of the National Bureau of Investigation in San Fernando, Pampanga, as authorities considered his safety and security.
Pampanga Regional Trial Court executive judge Edgar Chua issued the commitment order for him to be detained at the NBI facility because of alleged threats to his security.  He will remain there while his case is being heard by the Pampanga court.
Police arrested Lee 6:45 p.m. Thursday outside a hotel in Malate, Manila.  Lee is facing charges of syndicated estafa for the anomalous Pag-ibig housing loan amounting to almost P7 billion in Pampanga.  He was arrested by the combined force of PNP Task Force Tugis and the Manila Police District, based on the arrest warrant issued by Pampanga RTC branch 42.
He was brought to Camp Crame immediately after his arrest where he was further investigated.
But Lee's lawyer, Atty. Gilbert Repizo, insisted that his client was merely invited by the police to shed light on the status of the standing warrant against him.  He insisted that Lee cannot be arrested since the court had allegedly thrown out the syndicated estafa case initially filed against him.
Last year, the court in Pampanga also cleared another co-accused in the case, a certain Cristina Sagun.  Because of this, the required number of at least five accused for syndicated estafa was not reached.
Lee, and four others faced syndicated estafa charges filed by the Department of Justice over the alleged use of ghost borrowers to obtain P6.6 billion loans from Pag-IBIG Fund in 2009.
On November 7, 2013, the Court of Appeals dismissed the charges against and barred his arrest.
In a 29-page decision, the appellate court nullified an order issued by the Pampanga Regional Trial Court that found probable cause for Lee's arrest.
The CA also said that Lee could no longer be prosecuted for syndicated estafa, which "must be committed by five or more persons."  This was after one of Lee's co-accused was absolved by the appellate court.
Lee's camp insisted that his arrest warrant of arrest was invalid after the Court of Appeals (CA) quashed it.
Justice Secretary Leila De Lima however insisted that the arrest warrant against Lee remained valid because the CA's decision was not final and could still be appealed.
De Lima added that there was a pending petition by the Department of Justice before the Supreme Court questioning the appellate court's decision to quash the arrest warrant.  She said this was why the order was still in effect.
The high court, however, has not yet ruled on this petition.  (Eagle News Service with a report from Gerald Ranez)