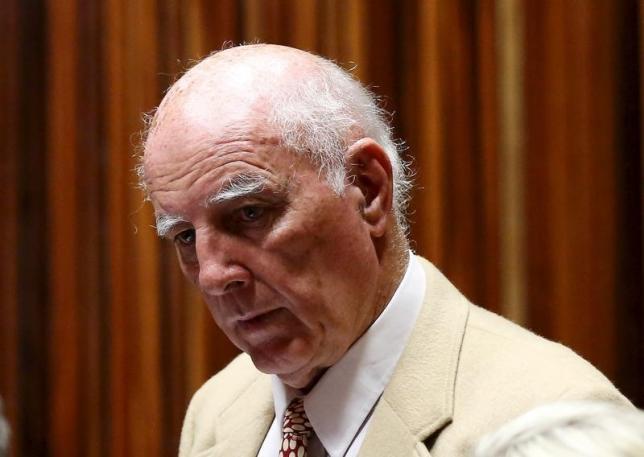 Former Grand Slam doubles tennis champion Bob Hewitt was sentenced to six years in prison by a South African court in Pretoria on Monday (May 18) after being found guilty of two counts of rape and a charge of sexual assault of minors. The Australian-born Hewitt, 75, was found guilty of assaulting three under-age girls during his time coaching children in South Africa in the 1980s and 1990s.
Before sentencing, Hewitt pleaded with the court to take his poor health into consideration and said he had received anonymous threats warning of assault if he was put behind bars. Hewitt also told the court that he had suffered a stroke in 2010 and a heart attack in 2011.
The court extended Hewitt's bail until Tuesday (May 19) when his legal team will appeal the sentence.
"I think it's a fair sentence, I think in a sense that we are looking at a man of 75, of cause we can't excuse somebody because they are 75 of a crime of raping a child, but what he has also been, he has been given a fair enough sentence that an appeal is going to be very difficult," said Miranda Friedman, a director for Woman and Man Against Child Abuse.
"The NPA welcomes the sentence and the conviction, however as I have indicated to you, the matter is adjourned until tomorrow, because the accused is going to be appealing the conviction of sentence, so it's going to be a full application, for a bail application tomorrow," said Velekhaya Mgobhozi, a National Prosecuting Authority spokesperson.
Hewitt won nine Grand Slam doubles and six Grand Slam mixed doubles titles in the 1960s and 1970s. He also reached the semi-finals of the men's singles at the Australian Open three times, and won the Davis Cup with South Africa in 1974 after settling there.
REUTERS