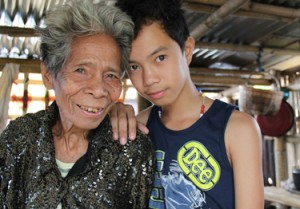 A young survivor finds a way to help other children – and himself – recover from the devastation of Typhoon Haiyan.
For most of his life, 12-year-old Jericho has lived with his grandmother Monica Ignacio in a bamboo hut in Roxas City, Panay Island. The house was woefully inadequate against the sheer force of Typhoon Haiyan.
"We were afraid because the roof was shaking and then broke. Grandma was almost hit by the falling roof debris," says Jericho.
They sought shelter at a neighbour's house. "We stayed in one room and prayed and prayed until the typhoon was over," he says.
Signs of the storm still litter the neighborhood. Most houses – made from the same light materials the Ignacios used for their house: bamboo, found wood, and coconut leaves for the roof – suffered serious damage.
Jericho's life has been about coping with challenges. His mother remarried and has a new family. He has never met his father.
"I was still in my mother's womb when they separated," says Jericho. "And when I was born, I did not get to see him. That's all – that's all I can remember."
Still, Jericho has a firm grasp of what he wants out of life: A simple house, a family, a career as a doctor to help sick people – especially his grandmother with all her ailments. His goals give a structure to his otherwise bumpy life.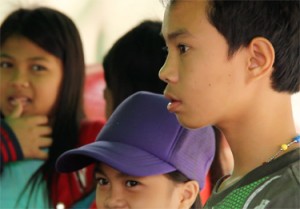 Resilience is the ability to absorb shock and spring back into place. A child builds resilience by receiving support from his surrounding social systems – individuals, families, schools, and community. In Tagalog, it's called 'paki-kasama', which roughly translates as 'togetherness'.
Jericho's neighbors are his aunties and uncles, looking after him and his grandmother, giving them food and shelter. Jericho considers them his family.
And then there is his grandmother. His foundation.
"I find strength and power from my grandmother," he says. "She is the one that sends me to school, feeds me, raises me, and the one who gives me affection."
Jericho is both a participant and a volunteer at the Child Centered Space, a tent set up in the neighbourhood by UNICEF partner Child Fund. UNICEF Child Friendly Spaces like this one have been put up throughout the areas affected by Typhoon Haiyan to help provide children with protection, psychosocial well-being and non-formal education.
"When it rains or when the wind gushes strongly, I remember the things that happened during the typhoon," Jericho says. "One of the kids I know from just nearby, when the wind blows strongly, she goes inside her house because she is scared. Her mom says that she is in trauma. Of course, I am afraid too."
As a facilitator listening to the stories of other children in the neighbourhood, Jericho is able to help them recover from the trauma of the typhoon.
"What I like about being a facilitator now is that I get to teach the children to have strength every day."
With the help of the community – and a far-off friend in Canada – Jericho and his grandmother rebuilt their hut after the storm.
"The child I used to take care of when I was still young and working as a nanny sent me the money," says Monica Ignacio, Jericho's grandmother.
A new aluminum roof shines overhead in their 12–by-8-foot hut.
Jericho has returned to school, and his grandmother sells sweet rice treats to the students.
But on the weekends, he continues to volunteer at the Child Centered Space.
"The way I see it, it is a big help to us and to the children after the typhoon."
And has it helped him?
"It does help me in a big way with my recovery."
The number of children under 18 affected by Typhoon Haiyan is estimated at 5.9 million. As of 7 February, UNICEF and partners put up 79 child friendly spaces, benefiting approximately 13,500 children. The target for 2014 is to give 147,000 children access to child friendly spaces across the region affected by Typhoon Haiyan.
By Marissa Aroy
(United Nations)