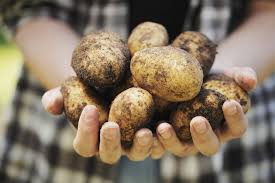 POTATOES are one of the most popular vegetables abundant throughout the year.  They are nutritious, easy to prepare, and very versatile.
A potato has approximately the same energy value as bread, but it is a far better balanced food than bread.  Potatoes are rich in complex carbohydrates which supply energy.  One serving of boiled potato, about 100 grams (g) edible portion, has about 62 calories, 1.7 g protein, 34 milligrams (mg) calcium, 44 mg phosphorus and 24 mg vitamin C.  Since potatoes are starchy foods, they put less work on the kidneys. That same potato has about 5 grams of fiber, which is important for a healthy digestive tract.
Potatoes contain more potassium than any other fresh vegetable, even more than bananas. One potato (100 g) has almost 900 mg of potassium, which is about 20% of what we need every day. Potassium is important for body growth and cell maintenance.  It is also an electrolyte that helps balance the fluids in the body, which is important for normal blood pressure.
Potatoes also contain substantial amounts of vitamins C and B6, which are vital for blood clotting, wound healing, strong immune system, normal nervous system function and for converting food to energy.
When selecting………..
When selecting potatoes, make sure they are smooth, shallow-­eyed, and reasonably unblemished.  Avoid the extra large potato, as it may have a hollow or pithy center. Potatoes with a slightly green color are sunburned and may have developed a bitter taste.  When choosing potatoes, be sure they are firm and smooth.  Softness, a green tinge, or wrinkly skin may indicate a potato that is past its prime.
When storing ……….
Store potatoes in a cool and dry place.  Sunlight causes the skin to turn green.  If this occurs, the skin must be peeled off before consuming because of its bitter taste.  Most of the nutrients are contained right below the skin, so avoid peeling when possible.
When preparing …………
Before cooking potatoes, they should be thoroughly washed with clean tap water and scrubbed lightly.  Any sprouts or eyes growing from the potato should be cut. The skin can be removed or left on depending on use.
When cooking ……….
Potatoes are easy to cook.  Common methods include boiling, baking, microwaving, frying and grilling.  Potatoes can also be mashed with a little non-fat milk, or used in a potato salad.
Consuming baked and grilled potatoes with the skin left on provides the most nutrients.
Potatoes have a bland flavor, so they can be used frequently in meals. It is best to cook potatoes on a low heat, if possible.  If they are not baked, they should be cooked in a vapor-sealed vessel to retain their goodness.
To bake, drop them first in very hot water to heat them, and then rub them with oil to keep their skins from getting too hard during baking and to make them more digestible.
Before serving baked potatoes, they may be cut in half, scooped out, and mashed with butter or a little grated cheese, and then garnished with parsley or chives.  You may also take plain, baked potatoes by splitting them open, and serve with a Roquefort, cream, and chive dressing.
While a plain potato with the skin intact is very good for you, potatoes can have an evil side. French fries and potato chips are full of fat, salt and calories and a baked potato can go from good to bad when you add bacon, cheese and a big glop of sour cream. Keep your baked potato healthy by topping it with some lycopene-rich salsa, or use a dab of low-fat sour cream.
Here are some more healthy potato tips:
·       Include potatoes in your variety of daily colorful fruits and vegetables.
·       Start a vegetable garden and plant potatoes – they are easy to grow.
·       Wash and poke holes in a raw potato and microwave for about four minutes for a fast, tasty low-calorie snack.
·       Add cut-up boiled potatoes to stews and vegetable soups.
·       Wrap baking potatoes in foil and put them on the grill and add to a summer meal.
·       Boil and mash potatoes for an all-time favorite dish.
·       Slice potatoes into strips, season, and bake in the oven for healthy, homemade French fries.
For more information on food and nutrition, contact:  Dr. Mario V. Capanzana, Director, Food and Nutrition Research Institute, Department of Science and Technology, General Santos Avenue, Bicutan, Taguig City; Telephone/ Fax Nos: 837-2934 or 837-3164; Direct Line:839-1839; DOST Trunk Line: 837-2071-82 local 2296 or 2284; e-mail: [email protected] or at [email protected]; FNRI-DOST website: http://www.fnri.dost.gov.ph.  Like our Facebook page at facebook.com/FNRI.DOST or follow our Twitter account at twitter.com/FNRI_DOST.
(Divorah V. Aguila, FNRI-DOST S&T Media Service/PIA-Caraga)