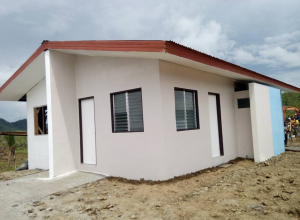 FACT SHEET:   NEW ERA RESETTLEMENT AND ECO-FARMING SITE
Sitio New Era, Barangay Langit, Alangalang, Leyte
 Total land area:  3,000 hectares (owned by the Iglesia Ni Cristo)
Area to be initially developed for housing, eco-farming and garments factory:  768 hectares  (to be expanded in the future)
Type of housing:  quadruplex studio type
Area of one quadruplex:  140 square meters
Four units/quadruplex
Lot Area per unit:  35 square meters
Floor area per unit: 22 square meters
Initial concrete housing units to be developed:  1,000 units equivalent to 250 quadruplex houses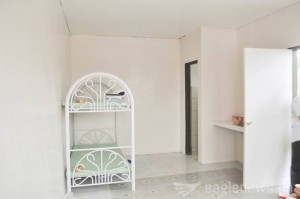 The New Era resettlement and eco-farming community will also have a dried fish plant, a garments manufacturing factory and a bottle plant.  All these will provide livelihood for those given housing units.
For the Eco-Farming project in Sitio New Era, the following will be the crops/plants to be cultivated in the community:
Imported rice varieties
Imported fruit bearing trees
Imported vegetables
Cultured mushrooms
All the products of the eco-farming communities will be for export, or are of export-quality.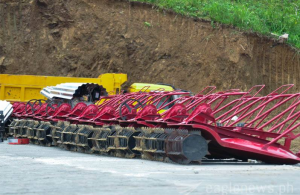 The model community is situated 18 kilometers from Tacloban City which is considered "ground zero" of the destruction brought about by typhoon Yolanda (international name: Haiyan).
Funding for the relief goods, resettlement project and the eco-farming project, including the garments factory, dried fish plant, and bottle plant came from:
 the funds generated by the Iglesia Ni Cristo's "Worldwide Walk for those affected by typhoon Yolanda" held on February 15, 2014; and
from the donations of Iglesia Ni Cristo members for the "Lingap sa Mamamayan" or Aid to Humanity
All the construction workers and other workers helping build the INC projects in New Era including the housing projects, garments factory, dried fish plant, bottle plant, and other structures in the area are provided an income by the Iglesia Ni Cristo.
The beneficiaries are also being given financial aid while the whole project is still being completed.
The main beneficiaries of the housing project, eco-farming project and various factories in Sitio New Era are Iglesia Ni Cristo brethren affected by typhoon Yolanda (international name:  Haiyan) that pummeled central Philippines on November 8, 2013.
Breakdown of INC families affected by typhoon Yolanda:
total number of affected INC families — 2,630 families
–          1,500 affected INC families in Leyte East;
–          1,000 affected INC families in Leyte West;
–          and 130 INC families in Samar
or a total of 7,000 to 8,000 individuals
INC families affected by typhoon Yolanda, who have either lost their houses/or their livelihood, were also given food aid and cash — P20,000 or P10,000 each depending on the damage to their homes — in the immediate aftermath of typhoon Yolanda.  (Eagle News Service)