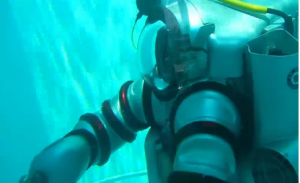 (Reuters) — The new Exosuit promises to take deep-divers deep underwater so they can explore marine life up close as never before.
The next-generation Exosuit was unveiled at the American Museum of Natural History (AMNH) in New York on Thursday (February 27).
The Exosuit Atmospheric Diving System stands about 6.5 feet tall (2 meters) and weighs more than 530 pounds (240 kilograms).
"Imagine putting on a suit of armor essentially," said Michael Lombardi, the diving safety officer at the American Museum of Natural History. He added, "You have the ability to move your arms and legs. They're just in a protected space. It's a very unique, unique experience. "
Unlike a submarine or other submersibles, the Exosuit fits over a single diver to allow him to move around with dexterity.
The Exosuit can take diver safely 1,000 feet (305 meters) underwater. It is made of hard metal that encases a diver to protect from intense underwater pressure.
In addition to allowing divers to travel farther underwater, it allows a diver to stay underwater for hours. A diving equiiped with conventional SCUBA gear can only travel a few hundred feet underwater and stay there for mere minutes.
"You know, it's ten times the depth of conventional, recreational SCUBA. Certainly, three or four times the depth of even advanced SCUBA for working purposes," added Lombardi.
The Exosuit will be tested off the New England coast in July by a team of researchers on the Stephen J. Barlow Bluewater Expedition. Lombardi is also the expedition's project coordinator.
With the help of a custom made underwater vehicle called the DeepReef-ROV, researchers on the Stephen J. Barlow Bluewater Expedition will use the Exosuit to help them "record luminescent flashing pattern for a variety of mid-water organisms and to identify new bioluminescent proteins that could be valuable in biomedical research for cancer tagging and the development of brain activity probes," according to a statement from the AMNH.
John Sparks, the curator of the American Museum of Natural History's Department of Ichthyology, says with the Exosuit, researchers can study bioluminescent and biofluorescent animals in their natural habitat.
"The area the Exosuit can sample has been basically out of reach to us in terms of collecting fish and studying their flashing patterns for looking at bioluminescent patterns in them. We have been able to use submersibles, but they're clunky. They're not very maneuverable. So we can close to them, but the fish swim away and we can't really collect them very well. The suit, we envision, will be able to put collecting mechanisms on it so that the pilot or the diver in the suit can actually get down there and interact with the organisms, kind of collect them one by one or in groups. And then we can image them and we can either collect them and bring them to the surface under pressure, so they don't get destroyed, or release them."
Sparks added, "There's lots of new species still out there. People are always amazed when you come back from an expedition and say, 'oh, I've got five new species'. Because everyone thinks everything is described, but you hit an area like a deep coral reef or this open water environment and can collect out there, we're going to find hundreds of new species. So there's lots to be discovered and that's the exciting part."
There is only one Exosuit in existence and it is owned by the J.F. White Contracting Company in Massachusetts. It was designed and constructed by Nuytco Research Ltd in North Vancouver,Canada. The Exosuit took about 14 years to create at a cost of more than $1 million dollars (USD).