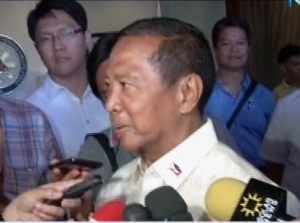 MANILA, Philippines (ENS) — A former Makati councilor testified that he used to receive  P300,000 to P500,000 monthly and that he believed the money came from then mayor  and now Vice President Jejomar Binay.
Ex-Councilor Ernesto Aspillaga told the Senate blue ribbon subcommittee this morning he decided to come clean in the hope that the entire country would be spared from the alleged culture of corruption in Makati.
Aspillaga further claimed that as the former  head of  general services and a member of the bids and awards committee, he knew that Makati biddings were  just for show.
He asserted that said biddings were rigged and the winning bidder,  predetermined.
Aspillaga added that the  "moro-moro" or  rigged biddings in Makati City  went on during the term of  the Vice President's wife,  Elenita.
In light of Aspillaga's  allegations, senators  are reportedly poised to recommend that the former councilor  be placed under the Witness Protection Program of the Department of Justice. (Eagle News Service)