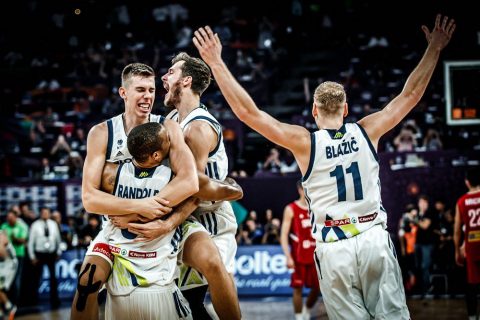 By Vivem Soriano
Eagle News Service
All rise for the new kings of European basketball.
Miami Heat star guard Goran Dragic's 35 points and two crucial baskets by American naturalized player Anthony Randolph with two minutes left in the game gave Slovenia a 93-85 win over perennial powerhouse Serbia to capture the 2017 Eurobasket championship and their first European title.
The win caps Slovenia's magical run, an unbeaten one from the group stages with big wins over traditional powers Greece and France, a Round-of-16 beatdown of lowly Ukraine, a quarter-final victory over Latvia and then the massive upset win over heavy favorites Spain during the semi-finals.
Slow start
Slovenia started slow, with Serbia leading by as much five points during the first quarter.
But Slovenia sparked a 36-point 2nd quarter explosion to head into halftime with a 56-47 lead over its opponent.
During the 3rd quarter though, Slovenia lost 18-year-old rising star Luka Doncic after he suffered a severe sprain midway through the 3rd.
The Serbs capitalized by mounting a strong run to cut the lead to four heading into the final quarter.
Serbia's onslaught continued and they finally took a 77-78 lead with 4:58 left in the game with a Milan Macvan jumper.
The  lead was increased to two, 80-82, after a Bojan Bogdanovic layup at the 3:37 mark of the 4th quarter.
But crucial free throws and baskets by Randolph put Slovenia on top for good, 86-82, with less than two minutes left in the ball game.
Dragic left the game with what appeared to be a leg injury with less than a minute remaining but Slovenia held on to victory with solid late game defense and free throw shooting.
Tournament MVP
With the win,  Dragic capped off his international career with Slovenia's first ever Eurobasket championship.
He was also named tournament MVP.
Teammate Doncic was also a big revelation in the tournament.
Already, the 18-year-old Real Madrid young star is on NBA  radars for next year's draft.
Former NBA player  Randolph also revitalized his career and is sure to attract interest and offers from NBA teams to return to the US.
Serbia though, suffered another stinging loss at the big stage.
They were runners-up as well at the 2016 Rio Olympics after suffering a beatdown against the USA in the gold medal game.
Serbia was led by  Bogdanovic who scored 22 points.
Macvan added 18 markers.