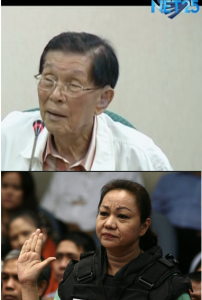 MANILA, Philippines — Saying he has "not committed any crime," Senate Minority Leader Juan Ponce Enrile pleaded not guilty to graft charges in connection with the pork barrel scam on Friday, Sept. 5, before the Sandiganbayan.
His chief of staff and co-accused, Atty. Jessica Lucila "Gigi" Reyes, on the other hand, refused to enter any plea, prompting the court to enter a "not guilty" plea for her.
Reyes, arrived at the Sandiganbayan, along with another co-accused businesswoman Janet Lim Napoles who pleaded not guilty to the graft charges for allegedly funneling pork barrel funds, and receiving kickbacks from them.
Reyes and Napoles are both detained at the Bureau of Jail Management and Penology facility in Taguig City.
Technology Resource Center director general (on leave) Dennis Cunanan also pleaded not guilty to the graft raps Friday morning.
Enrile arrived at the Sandiganbayan at around 8 a.m., wearing a barong Tagalog.  He is facing one count of plunder and 15 counts of graft.
He and his co-accused are alleged to have amassed P172.8 million in kickbacks from the Priority Development Assistance Fund (PDAF)from 2004 to 2010 through nongovernment organizations run by Napoles.