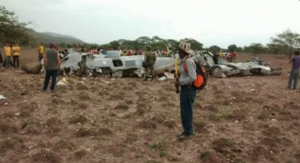 (Reuters) — Eleven Colombian military personnel were killed on Friday (July 31) when their transport plane suffered motor failure and crashed in the northern province of Cesar, killing all on board, according to a statement from the Air Force.
The burned hulk of the plane was found near the town of Codazzi, about 600 kilometres (372 miles) northeast of Bogota near the border with Venezuela.
My deepest sympathy and solidarity with this news which saddens us who proudly wear this blue uniform which throughout 95 years we have worked tirelessly for the defense, the well-being, security and progress of all Colombians," stated General Carlos Bueno the Air Force Commander at a news conference after the accident.
"The rescue work has begun and an inspection commission of the air force is being taken to the site of the crash to commence a unified multi-disciplinary investigation of the events," he continued.
President Juan Manuel Santos called the victims "heroes" in a Tweet.
The crash comes after Santos ordered a halt to air raids against FARC rebel camps as the government seeks to cool hostilities with the Marxist group while the two sides hammer out a peace accord to end five decades of war.
Santos's decision came just days after a unilateral ceasefire by the Revolutionary Armed Forces of Colombia (FARC) went into effect, providing a breakthrough in talks threatened by a recent escalation of battlefield violence.