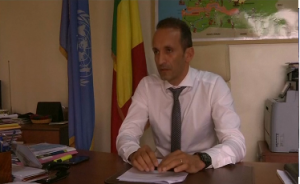 (Reuters) — The world's worst Ebola epidemic has put harvests at risk and sent food prices soaring in West Africa, the U.N. Food and Agriculture Organisation (FAO) said on Tuesday (September 2), warning the problem would intensify in the coming months.
The FAO issued a special alert for Liberia, Sierra Leone and Guinea, the three countries most affected by the outbreak, which has killed at least 1,550 people since the virus was detected in the remote jungles of southeastern Guinea in March.
"In the three countries severely affected by Ebola, the agriculture and the food security situation is really deteriorating," said Vincent Martin, head of an FAO unit in Dakar which is coordinating the agency's response.
"We are in a very serious situation, I must say. Very serious situation, we have to do something, we have to react absolutely right now," he added.
Restrictions on people's movements and the establishment of quarantine zones to contain the spread of the hemorrhagic fever has led to panic buying, food shortages and price hikes in countries ill-prepared to absorb the shock.
"In these places some of the poor farms have been abandoned and there have been a lot of restrictions in terms of movement, movement of people, movement of goods, trade, commercialization. All this has had an impact on the prices but also on the availability of food. And therefore people either cannot afford to buy the food or this food is not accessible anymore," Martin said.
Rice and maize production will be scaled back during the fast-approaching main harvest season as migration and movement restrictions cause labour shortages on farms, FAO said. Cash crops like palm oil, cocoa and rubber will be seriously affected, squeezing the purchasing power of many families, who will also lose income and nutrition due to the ban on bush meat.
The price of cassava at a market in the Liberian capital Monrovia rose 150 percent in the first weeks of August, the FAO said, adding that currency depreciation in Sierra Leone and Liberiawas likely to force prices up further.
Border crossing closures and the reduction of trade through seaports have tightened food supplies in the three countries, which are all net cereal importers, and propelled prices upwards, exacerbated by higher transport costs.
"So we're heading to look at a twin-track approach, whereby food will be delivered directly to the population but we'll assist them specifically on a technical basis: how to produce their food, how to restore their livelihood, how to restore the trade commercialization," Martin said.
The U.N. World Food Programme and FAO have approved an emergency programme to deliver 65,000 tonnes of food to 1.3 million people affected by Ebola over a three-month period.
Under the programme, food will be delivered to Ebola patients, suspected cases living in isolation and to communities within the badly-affected border zone of Guinea, Liberia and Sierra Leone that has been surrounded by a "cordon sanitaire" – or sanitary cordon – to prevent the further spread of the disease.