VP a no-show, sends lawyer instead
(Eagle News)–The Department of Justice special panel of prosecutors began its preliminary probe into the sedition charges filed against Vice President Leni Robredo and others on Friday, Aug. 9.
This was a day after Robredo asked that the deadline for her submission of a counter-affidavit be delayed pending her receipt of the supposed evidence the Philippine National Police-Criminal Investigation and Detection Group has against her in connection with the Ang Totoong Narco-list videos against President Rodrigo Duterte's family.
Among the respondents who attended the preliminary probe were former Rep. Erin Tañada, former Supreme Court spokesperson Atty. Theodore Te, priest  Robert Reyes, lawyer Jose Manuel Diokno and former Solicitor General Florin Hilbay.
Also present was Peter Joemel Advincula, whose affidavit became the basis for the filing of the charges against the respondents, and his lawyer, Larry Gadon.
Advincula, who claims to be the yellow-hooded character "Bikoy" in the videos, said he was forced to peddle the lies Duterte's family was engaged in the illegal drug trade by the opposition.
Robredo was a no-show in the probe, but her lawyer, Marlon Manuel, was present.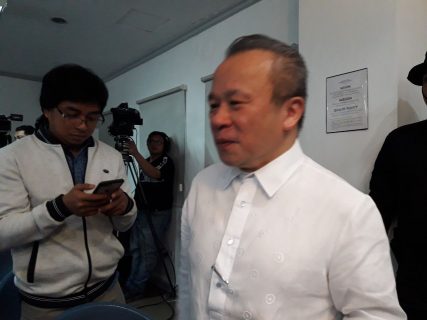 During the hearing, some of the lawyers of the respondents questioned the authority of the Office of the Solicitor General, through Assistant Solicitor General Angelita Miranda, to represent the PNP-CIDG which filed the charges.
Former senator Rene Saguisag, who represents Senator Risa Hontiveros, said the OSG was a lapping dog of the administration instead of being a tribune of the people.
According to Miranda, the OSG's representation of the PNP-CIDG was not illegal under the administrative code, and that representing agencies of government was part of their mandate.
Miranda said in fact, this was not the first time the OSG represented the PNP-CIDG in their cases since they also represented the police in the government's drug case against self-confessed druglord Kerwin Espinosa and Peter Lim alias Jaguar.
Senior Assistant State Prosecutor Olivia Torrevillas, for her part, decided to defer the submission of counter-affidavits of the respondents until the PNP-CIDG submits additional evidence.
Around 15 motions have been filed by several  of the respondents, including Robredo,  to defer the deadline for the submission, pending the PNP-CIDG's presentation of evidence.
The DOJ panel gave the PNP-CIDG five days to give the respondents copies of their supposed evidence against them.
According to Torrevillas, only the "evidence" submitted to them will be considered.
The DOJ panel  set the next hearing, tentatively, and the deadline for the submission of counter-affidavits to Sept. 6, at 9 a.m.
The DOJ special panel of prosecutors only has 60 days to resolve the case.
Protests
During the preliminary probe, supporters of the opposition held a protest outside the DOJ.
Among those who led the rally were former Social Welfare Secretary Dinky Soliman and her group Tindig Pilipinas.
They called on the DOJ to drop the charges against the respondents, saying telling the truth and pointing out the so-called mistakes of the administration  was not tantamount to committing sedition.Moira Encina