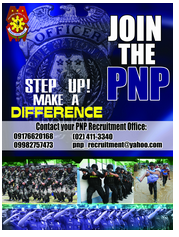 MANILA, Philippines — To boost the number of policemen on the streets, Interior and Local Government Secretary, Mar Roxas, ordered the Philippine National Police to fast-track the hiring of civilians or non-uniformed personnel in their organization.
Roxas's order aims to encourage high school graduates and college undergraduates to join the PNP.
He further advised interested applicants to go to the nearest PNP Regional, Provincial, City and Municipal stations in their area.
With the hiring of more civilians, Roxas is confident that the PNP will be able to free more policemen from office duty, hence increasing the number of uniformed policemen patrolling the streets.
The PNP has been tasked to hire 7, 439 non-uniformed personnel by June this year.