(Reuters) — Colombia's Ministry of Health on Friday confirmed the first three deaths from the Zika virus at a press conference.
"We have studied six suspected cases, and have confirmed three of them to be caused by the Zika virus. These three deaths are the first ones confirmed by us; other cases are still under review," said Martha Lucia, director of National Health Institute.
The three cases include one man and one woman who died last week and another man who died at the end of last November, according to the director.
The Health Minister Alejandro Gaviria said that 20,500 people have been confirmed to be infected by Zika, and 2,116 of them were pregnant women. No cases of microcephaly have been confirmed among the new-borns, but about 100 cases have been confirmed related to the Guillain-Barré syndrome (GBS) caused by the disease.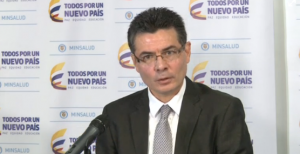 However, he also said it's possible that more cases remain unknown.
"We should make an adjustment to the statistics. We should include the ones with similar syndromes because there are many people with those syndromes who didn't go to the hospital. It's safe to say that in Colombia, there are 80,000 to 100,000 Zika-infected patients, including those with similar syndromes," said the minister.
It's feared that more deaths will be reported because many cases have not been responsive to the traditional immunoglobulin substitution therapy. The minister also suggested all women in the country not get pregnant before June.
Zika-virus usually causes syndromes similar to that of flu or even no syndromes at all. Some patients also suffered rash or fever. There is no treatment to the virus so far in the world.
The World Health Organization (WHO) has declared Zika as a global health emergency.
More than 30 countries have reported Zika-related cases, and the number is growing.