by Santiago Piedra Silva
Pedernales, Ecuador (AFP) — A hodgepodge of donated coffins in various shapes, sizes and colors is piled in a corner of the football stadium in the Ecuadoran resort town of Pedernales.
The stadium has taken on an eerie new identity as a morgue in the aftermath of the country's devastating earthquake, which killed more than 500 people.
Medical examiners in white uniforms criss-cross the makeshift facility, working to identify decomposing bodies pulled from homes and hotels in the popular beach town on Ecuador's Pacific coast.
Dubbed the Emergency Operations Center, the stadium sits not far from the epicenter of Saturday's 7.8-magnitude quake, which reduced some 800 buildings to mangled rubble.
It is also serving as a medical and aid distribution center.
"We are treating the wounded here, because the local (health) center only has three beds and is not for hospitalization. There's no operating room," said a health ministry doctor.
In the first 24 hours after the quake — the most chaotic — health workers lay patients on the pitch and set up a helipad at midfield to take the most seriously wounded to regional hospitals.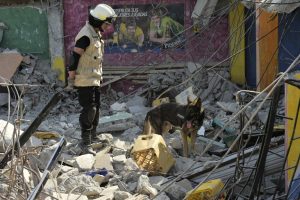 Desperate relatives searching for their loved ones initially arrived with hopes of finding them alive.
But now, four days after the quake, they come to claim their bodies.
Officials said 154 bodies had been identified so far in Pedernales.
More than 150 people are still missing, and authorities have warned the death toll is likely to continue rising.
– 'Exhausted' –
International aid and emergency teams have streamed in since the quake, but the clean-up operation is only just beginning.
President Rafael Correa estimates rebuilding will cost up to $3 billion and take two or three years.
Correa toured the disaster zone Tuesday, handing out food and water in the town of Manta, some 180 kilometers (110 miles) south of Pedernales.
Wearing a black cap and a white shirt with the words "Ecuador loves life" written on it, Correa passed out blue plastic bags of canned tuna, rice and pasta.
Shouting into a megaphone with a hoarse voice, he tried to reassure the devastated community.
"In 25 minutes, thousands of supplemental rations will reach us. Just be patient," he told a large crowd of people who had been lined up for hours in the tropical heat outside a police station in a devastated neighborhood.
He said he was "exhausted" in a short interview with AFP.
"It is very hard, but we are moving forward," he said.
The crowd watched him from the other side of the fence outside the police station, which was guarded by soldiers.
Several people reached out their hands to the president.
"We've been waiting two hours," said Andres Mantuano.
"My house was partly destroyed. We're going to have to raze the whole thing. We don't have food or water. The stores are either closed or charging very high prices. Some of them have raised their prices from one dollar to five," he told AFP.
Ramon Cevayo, who received his rations after waiting four hours, was trying to make his way out through the crowd.
"I had to walk here since there's no more public transportation. But the little they gave me is crucial for us. We still have no water or electricity," said the 57-year-old father of seven.
© 1994-2016 Agence France-Presse