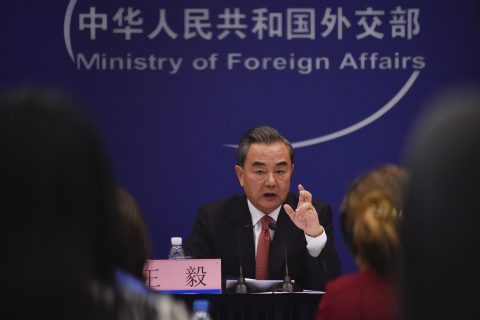 BEIJING, China (AFP) — China is working with other members of the United Nations Security Council on a response to North Korea's missile launch over Japan, the Chinese foreign minister said Wednesday.
Foreign Minister Wang Yi spoke hours after the UN Security Council unanimously condemned Tuesday's test and Japan's UN ambassador suggested that a new sanctions declaration could come next.
Wang said China — which is Pyongyang's only major ally — was "now working with other members of the Security Council to discuss the recent developments of the situation."
He added that "based on the consensus of Security Council members, we are going to make a necessary response to the recent test launch of the missile."
But Wang did not specify whether a fresh set of sanctions was looming.
"Whether there will be new measures going forward, that should be discussed by the Security Council and consensus needs to be formed," Wang told a news briefing.
The foreign minister said China opposes the missile launch, which he said violated the non-proliferation treaty.
He urged for a resumption of long-dormant negotiations and urged all parties to avoid actions that "may further escalate tensions."
"A very important part of Security Council resolutions — which is also a consensus of the Security Council members — is that we should continue to stick to peaceful and diplomatic means to resolve this issue," Wang said.
He spoke at a briefing ahead of next week's BRICS summit hosted by China, which also includes Security Council member Russia along with Brazil, India and South Africa.
Later on Wednesday, foreign ministry spokeswoman Hua Chunying criticized the actions of "relevant parties" who say China should step up pressure on North Korea.
Washington has pressed Beijing to do more to rein in Pyongyang.
"They only pay attention to sanctions and pressure, and ignore peace talks… When we promote peace talks, they ignore this," Hua said at a regular press briefing.
"You will reap what you sow… The parties directly concerned should take responsibility," Hua added.