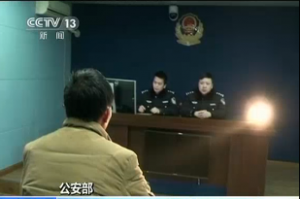 (Reuters) — Chinese police have detained 1,094 people and rescued 382 babies in a nation-wide crackdown on four online baby trafficking rings, state media reported on Friday (February 28), as criminals prey on citizens yearning to escape strict population curbs.
Child trafficking is widespread in China, where population control rules have bolstered a traditional bias for sons, seen as the support of elderly parents and heirs to the family name, and led to the abortion, killing or abandonment of girls.
About 118 boys are born for every 100 girls in the world's most populous country, against a global average of 103 to 107 boys per 100 girls.
The imbalance has created criminal demand for kidnapped or bought baby boys, as well as baby girls destined to be brides attracting rich dowries.
The traffickers used websites with names such as "China's Orphan Network" and "Dream Adoption Home", highlighting a trend of online deals that make it harder to hunt down the criminals, state news agency Xinhua said. But it did not say what steps authorities were taking to reunite the rescued babies with their parents.
State television broadcast pictures of one suspected trafficker handcuffed and walking into a room.
"Some people who wanted to adopt (babies) came to me. I thought I might get lucky and get away with it, to make some money. So I just did it." a main suspect Zhou Daifu said.
Liu Ancheng, head of Criminal Investigation Bureau of Ministry of Public Security said online baby trafficking rings were sophisticated.
"Both sides (seller and buyer) do not need to meet each other for online transactions. It's difficult to find them as they pay online and negotiate the price online. Secondly, it's difficult to investigate online baby trafficking as there are no geographic limitations (for crime) that could be widely scattered in all places ranging from east to west or south to north," Liu told China's state television CCTV.
Last month a Chinese court handed down a suspended death sentence for a doctor who sold seven new-borns to human traffickers in a case that triggered public anger.
Last year, China, which has a population of about 1.4 billion, said it would ease family restrictions, letting millions of families have two children, in the country's most significant liberalisation of its strict one-child policy in about three decades.