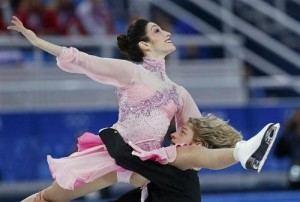 SOCHI, Russia (Reuters) – World champions Meryl Davis and Charlie White produced a stunning short dance to haul the United States into medal contention in the inaugural figure skating team event at the Sochi Olympics.
Their expected toe-to-toe battle with 2010 Olympic champions Tessa Virtue and Scott Moir failed to materialise as the Canadians paid the price for going out of sync in their side-by-side twizzles.
Davis and White's beautiful foxtrot and quickstep interpretation to a medley of songs from 'My Fair Lady' saw them blow away the competition with a score of 75.98 to earn 10 valuable points for the United States.
The Americans had been in danger of missing the cut for the free skate section of the competition following a poor showing by Jeremy Abbott on the opening day of the competition on Thursday.
But Davis and White's fast-paced footwork and intricate choreography lifted the United States from seventh to third in the standings.
"Points wise it (the skate) did (help the team climb back up)," White, looking distinctive in his tails, told reporters.
"We don't feel we are carrying any special burden or load. We are counting on the whole team to pull through together."
Virtue looked crushed after her slip up led to the mistake. Their score of 72.98 was almost five points off their season best.
"I may have lost a bit of speed going into it," she said.
"It wasn't a mental lapse, it wasn't that I wasn't focusing or picking up the right cues. I recovered quite well because I managed to stay on the same foot."
The team event features 10 nations and each country has one representative competing in men's singles, women's singles, pairs and ice dancing.
They each perform a short programme, after which the top five nations battle it out for the medals by competing in the free skates.
With only the women's short programme remaining before the cut-off, Russia lead with 27 points, while Canada (26), the United States (20), France (17) and China (16) occupy the other top five spots.
Ten points are awarded for finishing first in a programme, nine for second, and so on.
(Reporting by Pritha Sarkar, editing by Peter Rutherford and Julian Linden)