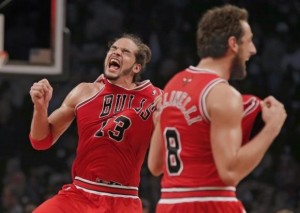 (Reuters) – Chicago Bulls center Joakim Noah was named the National Basketball Association's defensive player of the year on Monday, the first player from the franchise to earn the award since Michael Jordan in 1988.
Noah, whose father Yannick won the 1983 French Open tennis championship, was the centerpiece of a Chicago defense which held opponents to a league-low 91.8 points per game during the 2013-14 regular season.
The 29-year-old received 555 out of a possible 1,125 points, including 100 first-place votes, from a panel of 125 sportswriters and broadcasters in the United States and Canada.
Roy Hibbert of the Indiana Pacers (with 166 points) and DeAndre Jordan of the Los Angeles Clippers (121 points) finished second and third in the voting.
Noah averaged career highs of 12.6 points, 11.3 rebounds and 5.4 assists during the 2013-14 season, helping the Bulls finish fourth in the Eastern Conference with a 48- 34 record.