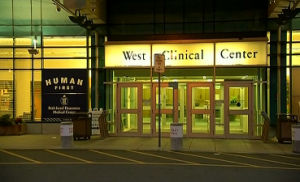 (Reuters) — A man in Massachusetts who recently returned from Liberia is being evaluated at aBoston hospital for a potential case of Ebola after complaining of a headache and muscle aches, health officials said on Sunday (October 12).
The patient is at Beth Israel Deaconess Medical Center but there is no confirmation of Ebola, said Dr. Kenneth Sands, chief quality officer at Beth Israel.
The response in Massachusetts demonstrates the high state of alert medical facilities are under since a Texas health worker became the first person on Sunday to contract the disease in theUnited States. She had treated a Liberian man who died of the deadly virus last week.
"We are implementing the plan that we had in place for a couple of months now and so this plan is being executed. We feel comfortable that it is working in a way that protects our patients and our staff," Sands said at a news conference. "We have a team appropriate for the patient, that is available to take care of a patient."
Sands said if Ebola is suspected, doctors will test him for the disease, possibly with the help of theCenters for Disease Control and Prevention in Atlanta. Testing would take 24 to 48 hours, he said.
There have been several Ebola scares in the United States in the past week. A plane was briefly quarantined at a Las Vegas Airport on Friday after a passenger reported feeling unwell. Health officials around the country have fielded scores of possible cases that were false alarms.
The Massachusetts patient first reported to the Harvard Vanguard Medical Associates hospital in Braintree, Massachusetts, and was then transferred to Beth Israel, said Ben Kruskal, a physician and chief of infectious disease at Vanguard, in a statement.
Kruskal said the Braintree building was closed briefly but reopened
The current Ebola outbreak, the worst on record of the disease, has killed more than 4,000 people, mostly in Liberia, Sierra Leone and Guinea in West Africa.