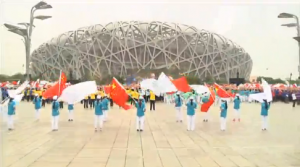 (Reuters) —  Beijing was chosen by the International Olympic Committee (IOC) to host the 2022 Winter Olympics on Friday (July 31), becoming the first city to be awarded both summer and winter Games.
The Chinese capital beat Almaty, Kazakhstan in a secret ballot of 85 IOC members, held at a convention centre in downtown Kuala Lumpur, Malaysia with IOC president Thomas Bach opening an envelope to announce the decision.
Beijing bid officials, towered over by retired NBA player Yao Ming, celebrated the decision in the hall while people gathered outside the National Stadium in Beijing cheered and waved flags when they heard the announcement.
Despite concerns about a lack of natural snow in the city's distant mountains, and protests from human rights groups, Beijing had been the clear favourite to win the vote after it successfully hosted the 2008 Summer Olympics.
The high-powered Chinese delegation assured IOC members that Beijing was the safe choice because it had already proved it could stage the Games and said it would take winter sports into the backyard of the world's most populated country.
The bid team from Almaty tugged at the IOC's heartstrings, urging the committee, which includes sports administrators, captains of industry and even royalty, to resist the temptation to go back to China and instead send a positive message to smaller developing countries that they too could host the world's greatest sporting events.
Kazakhstan Prime Minister Karim Massimov delivered a powerful, moving speech, but the IOC, grappling with the effects of a global economic crisis and facing dwindling interest from countries wanting to host the Olympics, opted for Beijing.