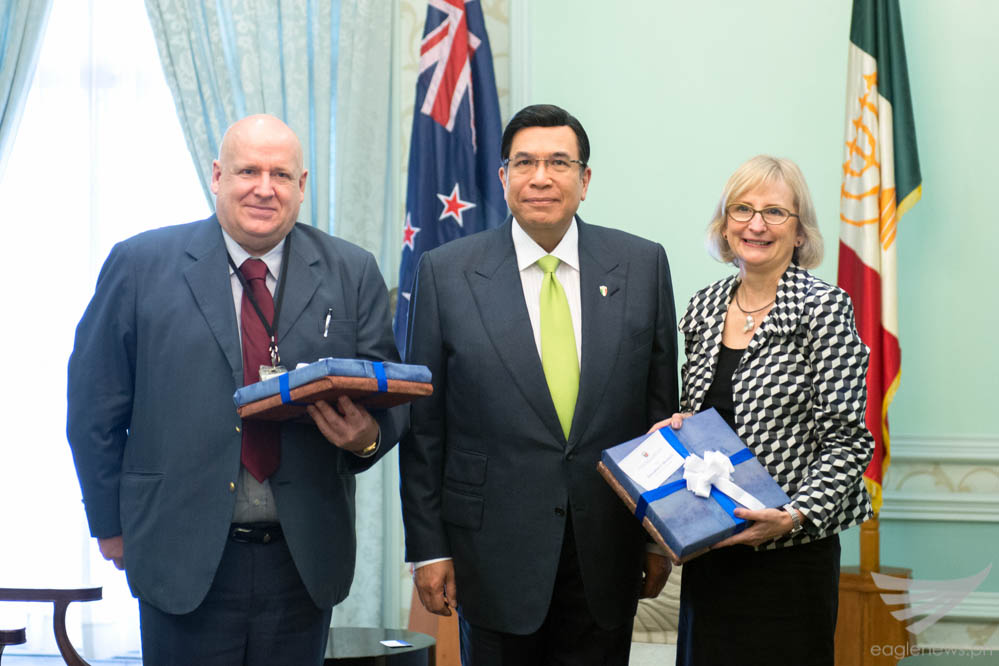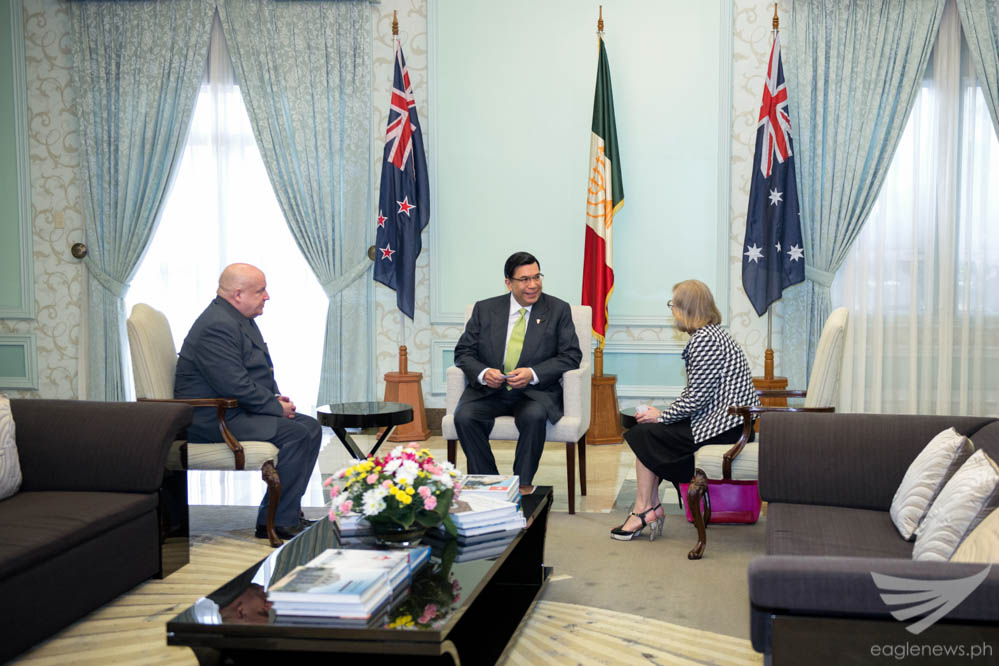 (Eagle News) – The ambassadors of Australia and New Zealand visited the Iglesia Ni Cristo Central Office in Quezon City to make a courtesy call on INC Executive Minister Brother Eduardo V. Manalo Wednesday morning (September 28).
Ambassador David Strachan of New Zealand, and Ambassador Amanda Gorely of Australia arrived together at around 9 a.m. at the INC Central Office in Quezon City.
This was the first time that an ambassador from Australia and New Zealand made a courtesy call on the INC Executive Minister.
Just last week, Ambassador Ben Effie Matityau of Israel and Guam Legislature's Majority Leader, Senator Rory Respicio, also made a courtesy call to Brother Eduardo.
INC minister Joel San Pedro said ambassadors Strachan and Gorely sent word of their interest to see the INC Executive Minister following the latter's visit to New Zealand and Australia recently.
According to the INC Minister, the visit showed how much these countries "recognize the contributions of the Iglesia Ni Cristo to the communities in their country" and also further strengthened the ties of cooperation between the INC and these countries.
"(It also showed) how much they also realize that the Iglesia Ni Cristo is a force for good — that we want to share the gospel, share the words of God to people as well as sincerely help the communities in different areas of this life", San Pedro said.
Both ambassadors expressed appreciation for the warm welcome they received at the INC Central Office.
Ambassador Gorely also immediately tweeted about their visit at the INC Central Office. In her tweet, she posted a picture of her and Ambassador Strachan of New Zealand with the INC Executive Minister, and wrote a brief description: "A warm welcome for me and NZ Amb by Bro Manalo and Iglesia Ni Cristo. Greetings to the 66 INC congregations in Aus."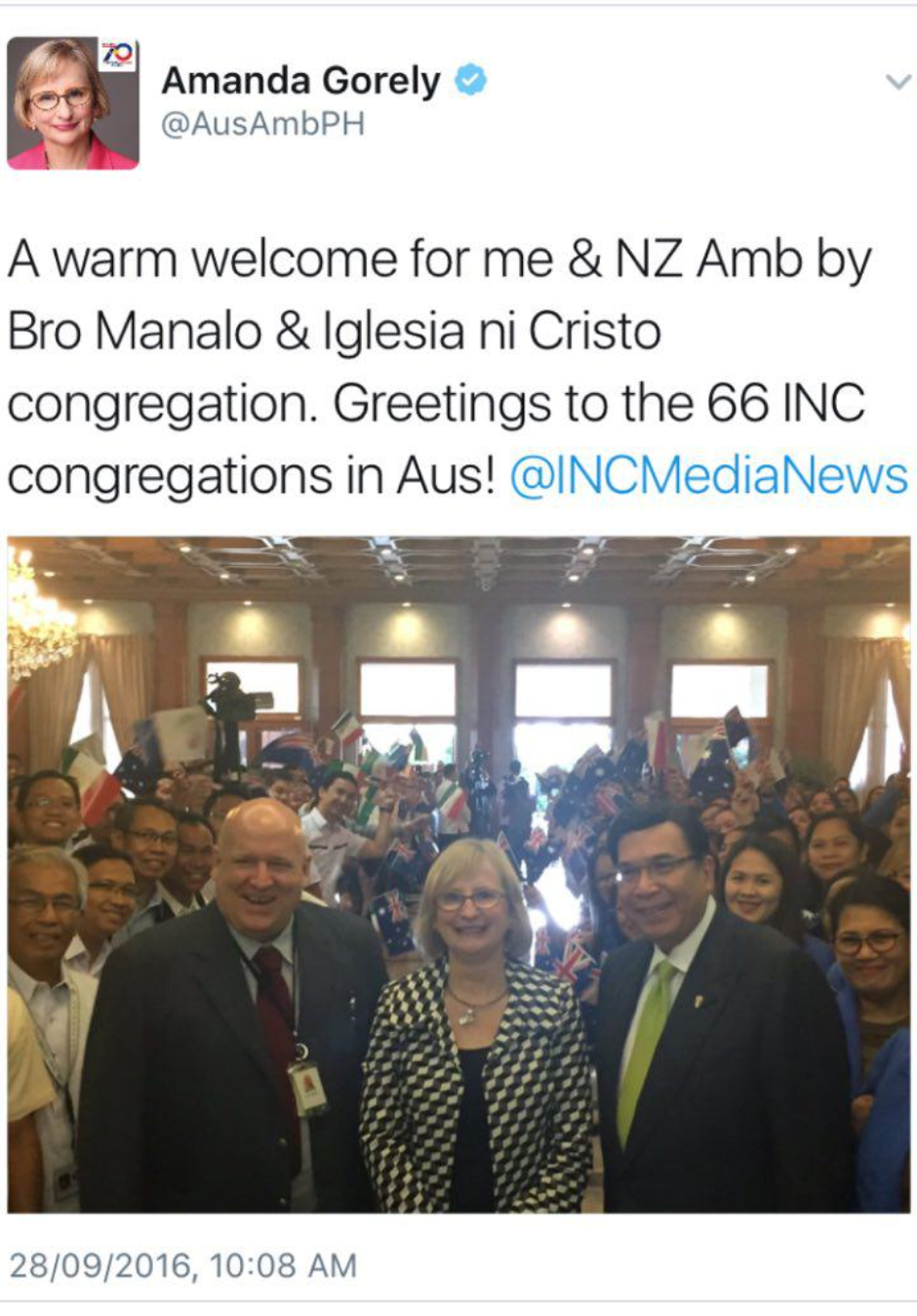 Some of the INC ministers and volunteer workers who greeted the two ambassadors at the lobby were also seen in the photo's background, waving flaglets of the two countries and of the INC.
Brother Eduardo recently dedicated the first house of worship that was constructed from the ground up in Christchurch, New Zealand.
He also led a special worship service commemorating the 40th anniversary of the INC in Australia at the world famous Sydney opera house. Another house of worship is under construction in Melbourne.
San Pedro said that "for the members of the Iglesia Ni Cristo, we recognize this as blessings that come from heaven."
"Activities like this further help in the great mission of the Iglesia Ni Cristo to help humankind, to be able to extend our love for our fellowman," San Pedro said.
"In the same way that the INC has high regard for governing authorities and wants to work well with all governments …, we also appreciate the regard that they are extending to INC as well," he added.