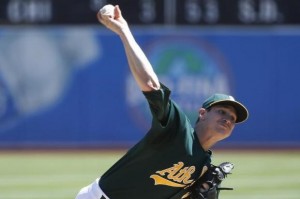 (Reuters) – Jarrod Parker, who was favored to be the Oakland Athletics' Opening Day starter entering spring training, will undergo elbow surgery and miss the Major League Baseball season, the team said on Monday.
The right-hander was scratched from his scheduled start on Saturday and was examined on Monday because of soreness and tightness in his pitching forearm.
Parker had forearm issues last season as well and previously had Tommy John surgery on his pitching elbow in 2009 while in the Arizona Diamondbacks' system.
The 25-year-old recovered from that surgery to post a 13-8 record with Oakland in 2012 and last season went 12-8 with a 3.97 earned run average, yielding 178 hits in 197 innings to help the A's win the American League West title.
This spring, Parker had struggled to a 10.61 ERA in three starts.