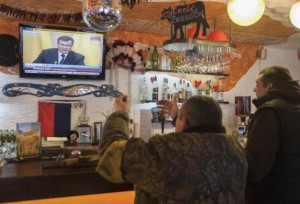 (Reuters) – Armed men took control of two airports in the Crimea region on Friday in what the new Ukrainian leadership described as an invasion by Moscow's forces, and ousted President Viktor Yanukovich surfaced in Russia after a week on the run.
Yanukovich said Russia should use all means at its disposal to stop the chaos in Ukraine as tension rose on the Black Sea peninsula of Crimea, the only region with an ethnic Russian majority and the last major bastion of resistance to the overthrow of the Moscow-backed leader.
Acting President Oleksander Turchinov accused Russia of open aggression and said Moscow was following a scenario simliar to the one before it went to war with fellow former Soviet republic Georgia in 2008.
A day after gunmen seized the Ukrainian parliament and raised the Russian flag, a representative of Turchinov in Crimea said 13 Russian aircraft had landed on the Black Sea peninsula with 150 personnel on board each one.
More than 10 Russian military helicopters flew over Crimea and Russian servicemen blockaded a unit of the Ukrainian border guard in the port city of Sevastopol, the guard said.
A serviceman at the scene confirmed to Reuters he was from Russia's Black Sea Fleet, part of which is based in Sevastopol, and said they were there to stop the kind of protests that ousted Yanukovich in Kiev.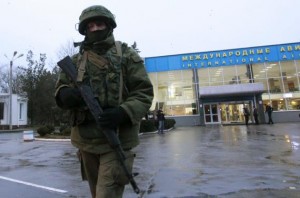 Some witnesses also reported seeing Russian armored personnel carriers and at least one warship on patrol.
The fleet denied its forces were involved in seizing the military airport near Sevastopol, where armed men later also occupied the runway, and a supporter described the armed group at the civilian international airport in Simferopol as Crimean militiamen. Ukraine's commercial airline said later that it had been refused entry into Crimean airspace.
Moscow has promised to defend the interests of its citizens in Ukraine. It has said it will not intervene by force, but its rhetoric since the removal of Yanukovich a week ago has echoed the run-up to its invasion of Georgia.
Any armed confrontation in Crimea would have major global repercussions, with Russia and the West already at odds over the change of power in Ukraine and supporting opposite sides in Syria's civil war. They have, however, pledged to cooperate to prop up Ukraine's faltering economy.
The U.N. Security Council called an emergency session for later on Friday at the request of Ukraine's new leaders, who warned the country's territorial integrity was threatened. Turchinov said he would not give in to "provocations".