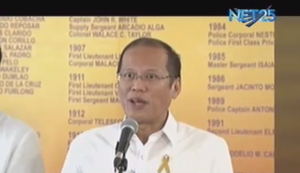 MANILA, March 31 (PNA) — President Benigno S. Aquino III said on Monday the Philippines' filing of a memorial or written argument with the United Nations arbitration court is meant to boost the country's claim on a part of the disputed West Philippine Sea (South China Sea) and not to provoke China.
It can be recalled that the memorial was filed by the Philippines before the Tribunal of the United Nations Convention on the Law of the Sea (UNCLOS) at The Hague in the Netherlands on Sunday.
The memorial opposes China's 9-dash line territorial rule, which refers to the demarcation line used by China for its claim to the West Philippine Sea.
During an ambush interview after the Philippine National Police Academy (PNPA) graduation rites in Silang, Cavite, the President explained that the filing of the memorial is the only option to defend the country's territory and sovereignty.
"…We are not here to challenge China, to provoke them into any action, but I do believe that they should recognize we have the right to defend our own interests," President Aquino said.
The President quoted the Constitution, Article 2, Section 7 on State Policies which says, "The state shall pursue an independent foreign policy and in its relations with other states, the paramount consideration shall be national sovereignty, territorial integrity, national interest, and the right to self-determination."
He further explained that the filing of the memorial is a peaceful and rules-based approach to address the issue.
"We went through arbitration primarily because that is a means to resolve the dispute na consistent with the policy na peaceful, at saka in conformity with the international law," President Aquino said.
President Aquino said that it is the only choice the Philippines has to make a firm stand on the Ayungin Shoal which is clearly within the 200-mile EEZ (exclusive economic zone) that is granted by UNCLOS.
He also posed the question that if perhaps the situation were in reverse, would China have acted differently?
"(If) they are the smaller country, they are the less military capable, they have interests, will they willingly just forego their interests here? I don't think so," the President said.
Meanwhile, when asked if the Philippines has a strong chance to receive a favorable decision from the ITLOS (International Tribunal for the Law of the Sea), President Aquino said that it is too early to say.
"Well, mahirap namang magsalita ng patapos at this point in time," he said. (Philippine News Agency)