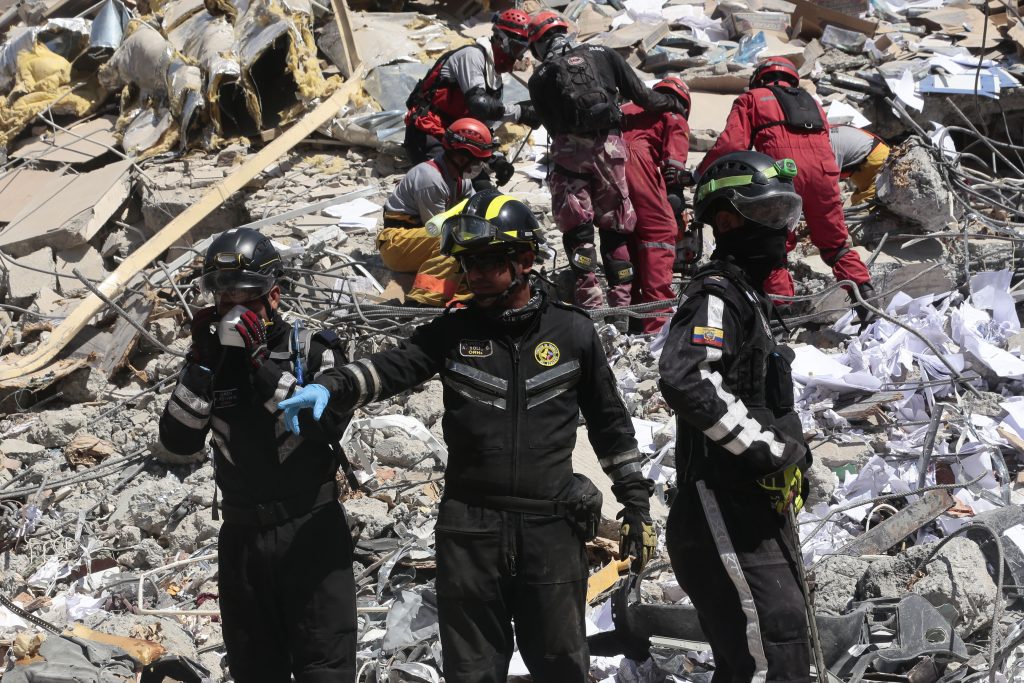 by Florence PANOUSSIAN
PEDERNALES,Ecuador (AFP) –The death toll from Ecuador's earthquake was feared to rise sharply as authorities warned Tuesday that 1,700 people were still missing and anger gripped families of victims trapped in the rubble.
Three days after the powerful 7.8-magnitude quake struck Ecuador's Pacific coast in a zone popular with tourists, 480 people are known to have died, the government said.
Sniffer dogs and mechanical diggers were busy at work in the wreckage of coastal towns such as Pedernales and Manta as the stench of rotting bodies grew stronger under the baking sun.
International rescuers and aid groups rushed to help victims as searchers dug for families trapped in the debris of homes, hotels and businesses.
"We have 2,000 people listed that are being looked for, but we have so far found 300," Deputy Interior Minister Diego Fuentes told reporters in the capital Quito.
"Right now we have 480 people who were killed and approximately 2,560 people who were injured."
Some survivors were reportedly pulled from the rubble, but hope of finding more victims alive was fading as the crucial three-day mark approached on Tuesday evening.
Locals in devastated towns such as Manta — population 253,000 — started to lose patience.
"The rescue has been very slow and precious lives have been lost. We relatives have been waiting here since Saturday night," said Pedro Merro, who said his cousin was under the wreckage of a three-floor market in Manta.
Luis Felipe Navarro said he was sure there were people alive in the concrete and twisted metal of a building he owned — one of around 800 structures toppled in the quake.
"I have received messages on my telephone. They say there are 10 of them in a cavity," he said. "But the rescue teams will not listen to me."
Aid flies in
Hundreds of emergency workers from Colombia, Mexico, El Salvador, Spain and other countries were helping overwhelmed Ecuadorian officials.
Fears rose for thousands of people left homeless by the quake, prey to disease-bearing mosquitoes and dirty drinking water.
Firefighting captain Freddy Arca pointed to the ruins of a hotel in Manta as drills and jackhammers rattled around him.
"We know that there is a man, his wife and their two-month-old baby in there. And there may be up to nine other people," he said.
International aid groups rushed to help.
UNICEF warned that 150,000 children were affected by the disaster.
It said landslides were complicating rescue efforts in some areas, and some towns were without electricity.
It was sending water-purifying tablets and mosquito nets to the zone to protect victims against the Zika virus and other diseases.
Oxfam said it was sending 2,000 kilograms (4,400 pounds) of material for providing safe drinking water.
The United Nations refugee agency UNHCR said it would airlift supplies including hundreds of tents and kitchen sets.
The Spanish Red Cross estimated that up to 100,000 people would need assistance.
US President Barack Obama called Ecuador's President Rafael Correa Tuesday and told him the United States would do "all it can to support Ecuador's recovery," the White House said in a statement.
Ecuador's government said it had access to $600 million in emergency credit overall, but Correa said rebuilding will cost up to $3 billion.
It was Ecuador's worst quake in nearly 40 years.
Correa said on television that many flimsily built buildings had been knocked down.
"I hope we will learn lessons for the future from this most painful experience," he said. "The tragedy is great, but even greater is the valor of the Ecuadoran people."
Noises in the rubble
In Manta, two young women with eyes red from crying wandered around near the ruined hotel on Tuesday.
"My brother Irvin is under there," said one, Samantha Herrera, 27. "The firefighters only arrived this morning. Ecuador is not prepared for such a catastrophe."
Rescuers said they could hear a noise from someone under the wreckage. Arca, the firefighting captain, ordered the skinniest members of his team to wriggle into a gap in the rubble.
The man came back up looking pale. Searching for survivors, he found two dead bodies.
"But we can still hear the noise," Arca said.
© 1994-2016 Agence France-Presse