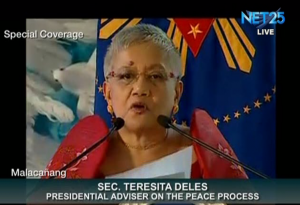 MANILA, Philippines — The ceremonies for the signing of the peace process has started in Malacanang, with Presidential Adviser on the Peace Process delivering the first speech thanking everybody who have worked for peace in Mindanao.
"A new dawn has come," Deles said as she regarded the outcome of the peace negotiations with the Moro Islamic Liberation Front that took almost 17 years.
But Deles said that "the work is far from over."
Still, "our common intentions will drive us forward," she said as she recognized that the continuing work for peace is far from over.
Deles said "peace for all" is an aim worth pursuing.  She said she still has the deepest faith that God would guide the country towards the road to peace.
Deles also thanked President Aquino for being instrumental in the success of the peace deal in Mindanao.
"Now i know that the tuwid sa daan also means peace for all. We could not have made it without you Mr. President.  Everybody knows that," she said.
Deles also expressed her sincere appreciation to Malaysia for being "a faithful an patient partner for the peace process."
"We can ask nothing more of a good and trusted neighbor," she said as she address Malaysian Prime Minister Najib Razak.
Deles also thanked all "our partners" in the journey towards peace.
"You know who you all are.  I can only say thank you.  Though sometimes we are battered and bruised, we will rise and rise again like the phoenix," she said.  (Eagle News Service)