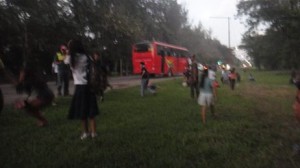 (Eagle News Service) — At least eight persons were killed when a bus exploded in front of a University in Maramag, Bukidnon.
According to initial reports from our Bukidnon Eagle News correspondent, Rica Cabe, the blast happened at around 5:30 p.m. Tuesday, December 9.
The bus was carrying several students, teachers and other passengers who were going to Cagayan de Oro.
Authorities are still investigating the incident.