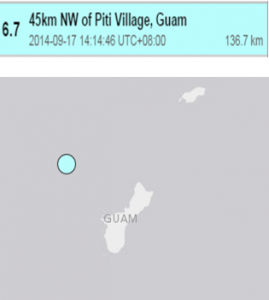 A 6.7 magnitude quake struck Guam on Wednesday afternoon, Sept. 17, with a depth of 136.7 kilometers, according to the US Geological Survey.
The quake occurred some 45 kilometers northwest of Piti Village in Guam, the USGS reported.
"A destructive tsunami was not generated because this earthquake is located too deep inside the earth," the Pacific Tsunami Warning Centre said.
"There were no reports of structural damage," said a statement from the Office of the Governor in the small U.S. territory. "We are still assessing."
"It was strong and lasted too long," a Guam resident said of the quake.
Guam is the largest island in Micronesia.  It has a population of 180,000 (With a report from Reuters)