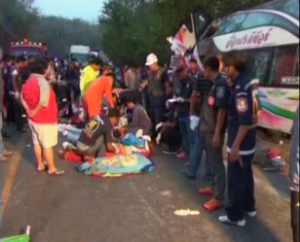 (Reuters) — At least 15 people were killed, mostly school students, and 40 injured in a bus accident in eastern Prachin Buri province during a school trip to the beach on Friday (February 28).
A school bus, carrying female students from Baan Donlop school from northeastern Nakorn Ratchasima province bound for eastern Chonburi province.
The bus collided with a truck in Prachin buri province, 135 kilometres east of Bangkok at dawn, police said. Local media reported that the bus driver lost control of the vehicle.
The accident killed 15 people, mostly female school students and two teachers.
Police said two buses, each bus carrying 60 people, including students between fourth and ninth grade, left the school at midnight for the school trip to Pattaya beach town in Chonburi province. Police said the second bus was not involved in the accident.
In Thailand, students attending fourth to ninth grades are usually between the ages of 7-17.
Police added that an investigation into the accident was underway.