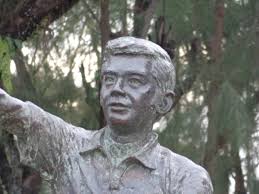 Remembering Evelio Bellaflor Javier
(October 14, 1942 – February 11, 1986)
Today is Evelio B. Javier Day.
Governor Evelio B. Javier Day, is a Special non-working holiday in the four provinces that comprise Panay Island (specifically Antique, Capiz, Aklan, and Iloilo) in the Philippines, to "commemorate the death anniversary of the late Governor Evelio B. Javier."  It has been a holiday on Panay island every year since 1987.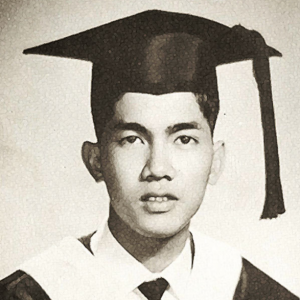 Evelio Javier was a politician who was assasinated in the last days of Ferdinand Marcos's presidency.
He was a Filipino lawyer, civil servant, politician, and an oppositionist during the Marcos regime.
He was shot on February 11, 1986 four days after the Snap Elections of 1986 were held but while the counting was continuing.
Javier is a staunch supporter of then-presidential candidate Corazon Aquino, and his assasination helped lead to the overthrow of Marcos during the People Power Revolution.   In fact, it is even seen as a tipping point for Marcos' downfall.
According to media reports, Javier was killed in Freedom Park in San Jose,Antique allegedly under orders from former Assemblyman and Marcos ally Arturo Pacificador but Pacificador was acquitted of charges in 2004.
Today Freedom Park is the center of Javier Day celebrations.
According to news reports, at 10:00 on the morning of February 11, 1986, three or four armed and masked gunmen riding in Jeeps went to the New Capitol building in San Jose, Antique. While Evelio Javier was talking to his friends on the steps in front of the capitol building, the masked gunmen opened fire at him.
Javier fled across a park in front of the capitol building, fell into a pond, then continued into a shop on a street across from the park. Wounded, he tried to hide in a toilet stall at the rear of the shop. A gunman caught up to him and shot him several times through the door of the stall.
On the day of the funeral and burial to his final resting place at his hometown of San Jose de Buenavista, Antique, millions of mourning people in Antique followed his funeral procession to the cemetery wearing yellow shirts and tying yellow bands to their wrists. They played his favourite song, "The Impossible Dream," during the procession to the cemetery. Thousands of Antiquenos there showed their anger and sorrow by crying "Justice for Evelio! We love you!" on the day of his death.
Javier was one of many politicians murdered during the period of martial law in the Philippines. His funeral surpassed that of Benigno Aquino, Jr.'s, assassinated three years earlier in 1983.
It is said that the assassination of Evelio Javier on Feb. 11, 1986 fueled the fire to start the People Power/Philippine EDSA Revolution on Saturday, February 22, 1986.
Evelio's body was processioned in Manila, passing through Ateneo de Manila University where he had thousands of friends and colleagues, days before the Feb. 22 People Power Revolution that ousted Ferdinand Marcos and made Cory Aquino the President of the Philippines.
(Reference:  wikipedia.  Researched by Ian Rose, Eagle News Correspondent, Iloilo City)