(Young Voices Speak is eaglenews.ph's blank space for the youth to share their opinions, views, and perspective on any topic, issue, or matter)
QUEZON City, Philippines – "Annyeonghaseyo! (Hello!)" "Saranghe! (I love you)" "Waeee! (Why?)" These are just a few of the common Korean words that have entered Filipinos' everyday vocabulary. Restaurants serving Korean cuisine can now be seen everywhere. K-pop songs can be heard on every playlist. Even in fashion, Korean clothes are  very trendy.
That's right! Our country has definitely been hit hard by the Korean fever.
Korean foods
Kimchi, tteokboki, fish cakes, rice cakes ramyun, and unlimited samgyupsals. Koreans are fond of eating vegetables, a lot of meat and spicy food. There is a marked difference between their food and ours. Nevertheless, we Pinoys have given in to our cravings for Korean food.
Kpop songs
    K-pop is the proof that you don't need to know the meaning of the lyrics to enjoy the music. It has also inspired many youngsters to learn the language. Who doesn't want to sing along with their K-pop idols, after all?
Korean fashion and makeup
Koreans are known for their clear, pore-less skin that many strive to have. I usually watch videos on how Koreans take good care of this part of their body. In fact, I also buy Korean cosmetic products and try them.
Korean fashion is basically pastel-colored and bright-colored clothes. Clothing lines are now adopting these styles in acknowledgement of the trends.
Korean dramas
K-dramas, I think, are the reason why the country is in the grip of Korean fever today.  They are so popular, that you can see a lot of people watching them on their cellphones, tablets, laptops or desktops all night long. Even the three biggest broadcasting stations in the Philippines buy Korean dramas and dub them in Filipino before airing them on national television.
My point? Let's all catch the fever!
But let's not get carried away too much.
Let us remember that we Filipinos also have our own heritage that we can be truly proud of.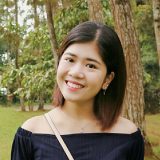 Rocelle Charlene Magcalas, a 4th year BA Communication student at New Era University. Loves writing novels during her past time.
(edited by Jay Paul Carlos, additional research by Vince Villarin)