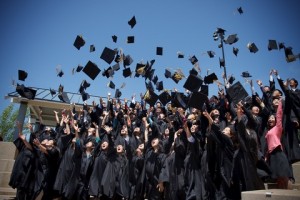 Each student's dream is to march on the stage wearing a black toga while getting a diploma together with their proud parents who cherish them. Graduation is the day we ought to celebrate! A day where students at long last are free from exams, study papers, loads of paper works and other requirements that wore them down and made life toxic for the entire semester. Every student's dream is to graduate with flying colors without delay.
So many years have passed by, and now, I'm finally a candidate for graduation in the world largest dome in the world, the Philippine Arena.  The time has come for me to graduate and I will surely make my parents proud of me. I'm content in light of the fact that at long last, through this I will be able to help my parents in providing our necessities in our day to day lives. At the same time, this is also a way of giving back to them, in view of all the hardship and sacrifices that they have done for me as their child.
For me, graduation will be my stepping stone to accomplish the things I have hoped for in my entire life and to begin a fresh start in a real world. It is the day which each student had been waiting for a period of about 16 years. All through my school days, I've learned a lot. I realize that the knowledge that I gained in the schools I've been will help me to adapt to other individuals in the realm of industry.
Graduation is an enormous achievement of being a student. Now is the right time to much appreciate our dear parents who made sacrifices for us so we could have a decent education and life. Our Parents have constantly supported and backed us up in whatever we are doing.
Whatever we might do, we must apply all the knowledge that we have learned in our school;  we should stay focused on our goals and at the same time trust the work of our God for us to succeed in life.
by:
Sharmaine Lorido
AB-Masscomm, New Era University