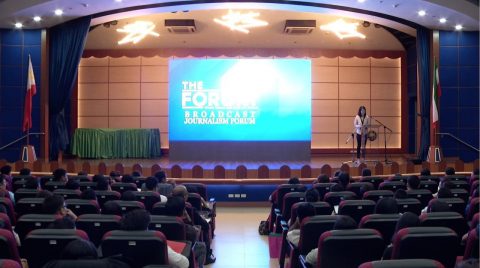 By Caesar Vallejos, Eagle News Service
As it celebrates its golden journey, Eagle Broadcasting Corporation (EBC) steers the company as the bastion of values-oriented, family-centered programming in today's freewheeling industry.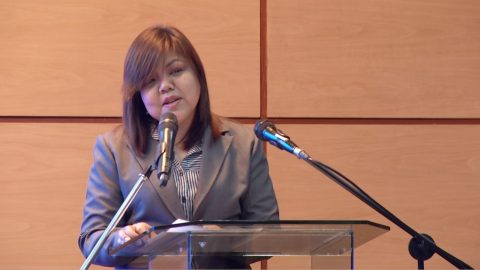 Amplifying the thrust to take the lead in responsible journalism, EBC, in a symbolic move, went back to the academe and challenged students to embrace the true tenets of journalism.
Held at the New Era University (NEU) last January 27, 2018, EBC hosted the Broadcast Journalism Forum that tackled Media Law and Ethics, Media and Public Relations and Social Media and Fake News.
Media Laws
"In the Philippines, it's really a freewheeling process. Express yourself and that's within your rights," Atty. Tranquil Salvador III said.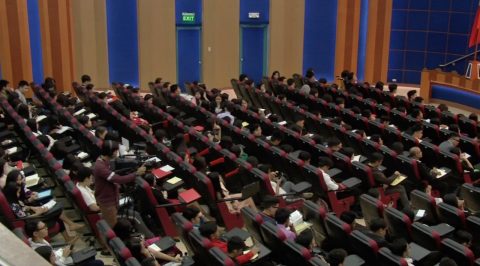 With social media now that is very powerful, "in a sense, you are a media practitioner," Salvador said.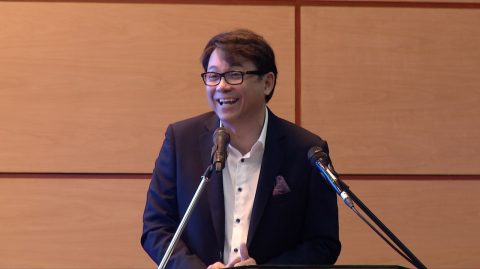 "You are out there, you are on an event, you take a shot, you make a statement, you are projecting yourself, you are sharing your message, but that comes with a lot of responsibility," Atty. Salvador stressed.
Salvador, the host of TV legal show Patakaran and a law professor for almost 25 years,  also discussed the criminal charges of libel and oral defamation under the Revised Penal Code and how television and films are monitored and classified by the MTRBC under PD 1986.
Subsequently, he also cited the Optical Media Law being implemented that deals with regulating the production, use and distribution of recording media in the Philippines.
Kapisanan ng mga Brodkasters ng Pilipinas or KBP is a separate organization that is self-monitoring. "Except for the MTRCB, there is no other government agency that regulates what media entities will release to the public," Atty Salvador said.
But at the moment, when you commit a crime, expect that you will be sued. Hanggat' hindi ka pa nadedemanda ng libel, hindi ka pa 'made'.  It has become a bragging right by journalists," he said.
"Ang media ang gusto, magsalita ka ng hindi mo napag-isipan, kasi istorya yan," he concluded after sharing his experience with media as spokesperson during Chief Justice Corona's impeachment trial at the Senate. He said that he focused on issues and avoided personalities.
Right to the Internet
"Your right to the Internet, per the United Nations is now a human right." Atty. Salvador shared this statement from the Department of Information and Communications (DICT) Secretary when he guested in his TV show.
In the Philippines, there is a Free Internet Access Law, which led the DICT to mount hotspots around Metro Manila and provinces in partnership with local government units.
He reiterated that even before the passage of the Cyber Crime Law which contains cyber libel, the Revised Penal Code on libel has already covered it.
"If you say something on the Internet or social media, which is offensive, vulgar or an imputation of a crime, you will be held liable. This applies even if you are not physically in the Philippines. As long as you are a Filipino citizen, you will be covered by the Cyber Crime Law," Atty. Salvador warned.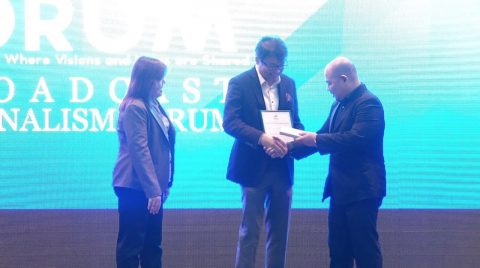 "If you attack a natural person or a juridical person and it causes damage against them, they could sue you. Even if the facility or the instrument is not in the Philippines or only partly in the Philippines, you could be prosecuted in the Philippines," he reminded.
While there was a lot of talk about the freedom of information, Atty. Salvador also said that "the closest that the government has reacted to freedom of information was Executive Order No. 2."
Also known as Freedom of Information Order, it covers all government offices under the Executive Branch requiring to make public records, contracts, transactions and any information requested by a member of the public, except for matters affecting national security.
Who owns media?
According to the Constitution, "media should be owned by Filipino citizens – 100%," Atty. Salvador emphasized. However, advertising companies can be owned by 70% of Filipinos.
Per the Telecommunications Policy Act, a broadcast company cannot own a telecommunications company but its owners are not prevented from creating a separate company for such purpose.
Media has to pass through various government agencies before they can operate including the Securities and Exchange Commission and the National Telecommunications Commission, with some entities having a congressional franchise.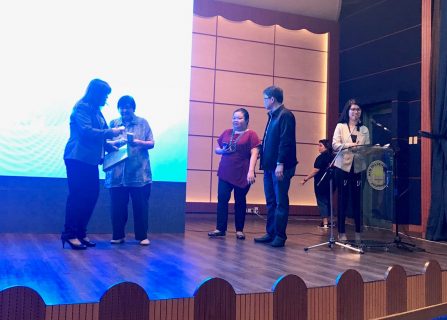 Media entities, according to Salvador should show compliance to government agencies. Inadequacy in the compliance of requirements could lead to revocation of licenses.
The sad reality is that the practice of media comes with it not only responsibility but also as a business.  Sometimes, content is being sacrificed in favor of readership and viewership (ratings).
"That is why the vision of the media outfit is very important," as it provides overall guidance to the direction of the company.
Ethics in Media
"Make sure that contents are verified, sources are reliable and your issues are relevant," Atty. Salvador said.
He also emphasized that there should be balance in issues and questions that a media practitioner should raise.
"If your statement as a media practitioner is not accurate, you should be bothered. Akala ko noon ang Pilipino puso tsismis but if you give time to the Filipino and share with him what is right and accurate, the Filipino will listen," he said.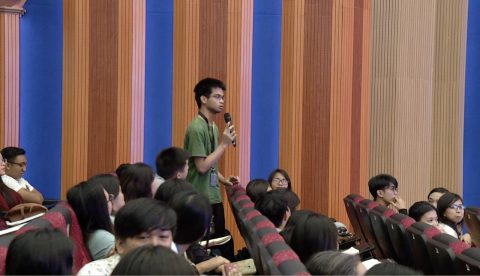 Respect privacy of people. "If they say, huwag mong ilabas, huwag mong ilabas, if you think that they are so young for the controversy, don't state their names just their stories. If you think women will be violated, do not state their names. Laws data protect women and children by not disclosing their names even in court decisions.
Atty. Salvador also mentioned integrity as a major trait that media practitioners should have.
Freeist and liveliest press in Asia
The Philippines remains to be Asia's bastion of democracy as evidenced having the freeist and liveliest press in Asia.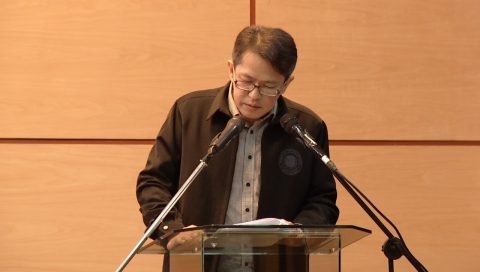 However, Ferdie Maglalang, President of the Public Relations Officers of the Senators, detailed in his presentation how the trends in America influenced the nation's electoral campaigns and coverage.
With the growing public apathy on politics, PR practitioners had to engage the public with ways to attract and entertain them in a world characterized by a media society: availability of communications technology; the rise of competitive 24/7 news cycle; pluralization of news sources and institutionality of censorship.
For future PR practitioners, Maglalang advised the audience to "always the truth" and not to let "media dictate the narratives." Building relationships and making your intent public, according to Maglalang, are some of the key elements of an effective PR campaign.
He also disclosed many examples of using pop culture as a powerful tool in a PR campaign.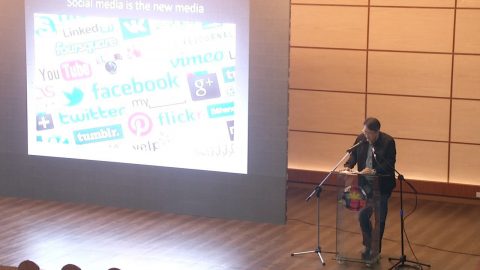 That "fake news is new" is fake
"Fake news has been happening for the longest time," Joyce Paneres, Editor of Manila Standard said.
However, she added that "fake news is not exactly the fake news that we know today."
Paneres differentiated misinformation against disinformation.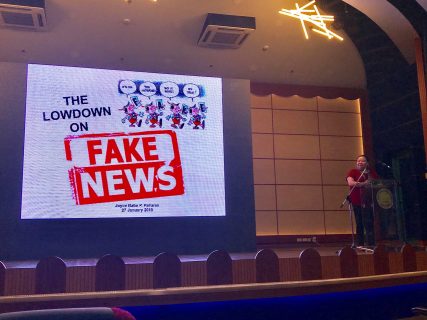 Misinformation covers "stories that may have some truth to them but they are not completely accurate." The people writing them may not have fact-checked.
Disinformation, on the other hand, are "false stories that are deliberately posted online or reported in the mainstream media even if the person writing them know that they are fabricated."
She also discussed how fake news has been "weaponized" by some politicians to discredit the media that they dislike. "Presstitutes" is a term referred to mainstream media who are peddling fake news or news critical of the president.
While Paneres says that "there is no such thing as objectivity. 50 percent of the biases come from the outfit as an institution and this is dependent on who owns it."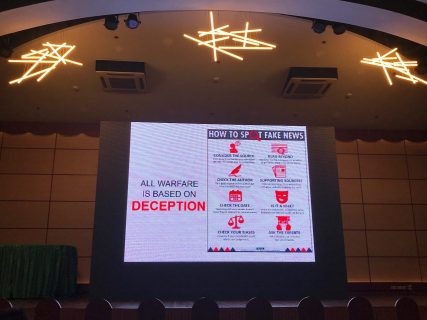 However, Paneres also believes that responsible journalism is also alive.
"Go back to your roots, para hindi kayo makain ng sistema. Have the correct set of skills and report all sides of the story," she added.
Another tip from Paneres: "don't write a story pag galit na galit ka!"
Watch The Forum, a monthly special on NET 25.