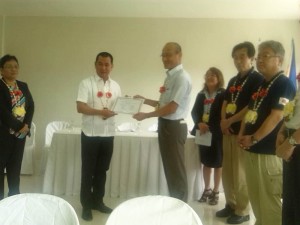 The Government of Japan turned over the submersible fish cages and reconstructed provincial health office to the Government of the Philippines in ceremonies held on March 24, 2015 in Municipalities of Basey, Samar and Palo, Leyte in relation to the Japan-funded Quick Impact Projects under Urgent Development Study on the Project on Rehabilitation and Recovery from Typhoon Yolanda, the total cost of which is 1 billion yen.  The ceremony was attended by Mr. Hiroyuki Uchida, Minister for Economic Affairs of the Embassy of Japan in Manila and Mr. Noriaki Niwa, Chief Representative of JICA Philippine Office.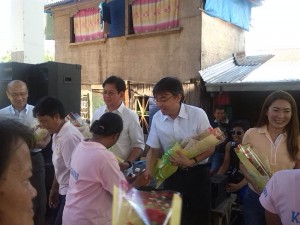 The submersible fish cages turnover ceremony was also attended by Senator Panfilo Lacson, the Former Presidential Assistant for Rehabilitation and Recovery, Governor Sharee Ann T. Tan of the province of Samar and Mayor Igmedio Junji E. Ponferrada of the Municipality of Basey.  Meanwhile, the provincial health office turnover ceremony was attended by Governor Leopoldo Dominico L. Petilla of the province of Leyte.  In each ceremony, representative recipients were present to express their appreciation for the much needed assistance that will hasten the return to normalcy and rebuilding of lives after disaster.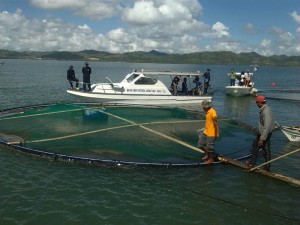 The Quick Impact Projects is composed of projects which targets restarting of economic activities, reconstruction of daily lives and strengthening of capacities in implementing supportive measures of government organizations. This turnover is one among 15 such projects, the total cost of which is about 317 million yen.  The submergible fish cage Japan donated is supposed to benefit about 5,300 people living in 4 fishery villages in Municipality of Basey. Reconstruction of the provincial health office is supposed to benefit 9 District Hospitals, 3 Community Hospitals and 44 Regional Health Units in the Province of Leyte as well as users of the office. Besides these projects, promotion of local products to improve livelihoods, improvement of municipal capacity for disaster-resilient construction management through reconstruction of public markets and some other projects are going to be implemented.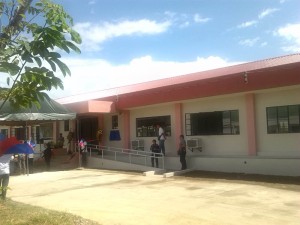 In addition to these Quick Impact Projects, hazard maps, resulting from field surveys and scientific analyses based on storm surge, wind strength and flood data, which were turned over to 18 LGUs affected by Yolanda last month, will be used in reviewing the comprehensive land use plans of LGUs with technical support from the study team. Including this project, the total amount of support from Japan to the Typhoon Yolanda victims reaches 62 billion yen.
Same as the Philippines, Japan has experienced numerous natural disasters. To share knowledge and technology for disaster risk reduction accumulated through the experiences, Japan has promoted cooperation as much as possible in the international community and hosted two UN World Conferences on Disaster Risk Reduction in the past. In the third UN World Conference on Disaster Risk Reduction which was also hosted by Japan in Sendai city this year, Japanese Prime Minister Abe announced the "Sendai Cooperation Initiative for Disaster Risk Reduction". With this initiative, Japan will implement cooperation for disaster risk reduction that effectively combines three approaches: (i) non-material assistance, such as human resource development and institutional development, (ii) material assistance centering on the development of quality infrastructure, and (iii) the promotion of global and region-wide cooperation. For this purpose, in the coming four years, Japan will provide cooperation amounting to 4 billion US dollars to the world.  Japan will likewise train 40 thousand government and local officials to play leading roles in national efforts for disaster risk reduction and post-disaster "Build Back Better."
In addition to this, cooperation for DRR efforts in ASEAN region is one of the Priority Policies in the "Development Cooperation Charter" which decided on February of this year by Japanese Cabinet.
Japan, as the top ODA donor to the Philippines as well as a disaster-prone country itself, has supported the Philippines' disaster mitigation efforts by sharing its experiences and lessons learned from past natural disasters.  This project, with itspolicy of "Build Back Better", is expected to further foster the strategic partnership between the two countries and serve as a model for other disaster-prone areas of the Philippines.
[Related Links]
Ministry of Foreign Affairs
Typhoon Damage in the Central Philippines
http://www.mofa.go.jp/region/page24e_000012.html
Development Cooperation Charter
http://www.mofa.go.jp/policy/oda/page_000138.html
Third UN World Conference on Disaster Risk Reduction
http://www.mofa.go.jp/ic/gic/page3e_000305.html