SAMAR – To show their commitment to the Philippines, the Embassy of Japan's First Secretary Kenji Terada, JICA's Chief Representative Noriaki Niwa together with Philippine Council for Agriculture and Fisheries Executive Director Ariel T. Cayanan led the turnover ceremony for the "AKBay – Agrikultura: Kaagapay ng Bayang Pinoy (Agriculture: A Partner in Philippine Progress) Program Phase II" for Typhoon Yolanda-Affected Areas under the Japan Food Security Project for Underprivileged Farmers, (formerly known as the KR2 Program). Under Japan's Official Development Assistance, the total fund support for this project is One Hundred Thirty Nine Million Nine Hundred Seventy Nine Thousand Five Hundred Pesos (P139,979,500.00).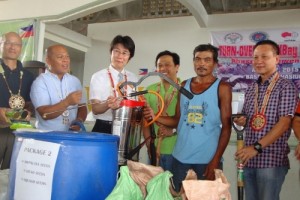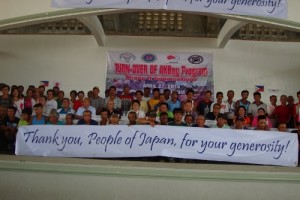 This project aims to contribute to the Philippine Government's recovery and rehabilitation efforts being provided to families in the agriculture and fishing communities in Typhoon Yolanda affected areas in Region VIII. It hopes to provide income-generating opportunities and help the displaced farmers and fishers re-establish their livelihood in relocation areas. The Philippine Council for Agriculture and Fisheries of the Department of Agriculture is implementing this project.
Around 8,500 farmer and fisher families are the project's target beneficiaries from four (4) badly-hit provinces namely: Leyte, Eastern Samar, Biliran and Western Samar. Grant assistance of farming plant materials or fishing boats and paraphernalia worth P15,000 per farmer/fisher household with no repayment are the project components.
This project strengthens the source of livelihood of the local residents, and also assists in farming activities and increased agricultural production in Typhoon Yolanda Affected Areas. (Eagle News Service/Embassy of Japan)