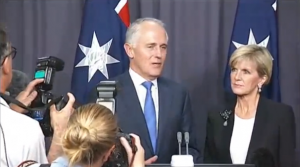 (Reuters) — Australia will have its fifth prime minister in eight years after the ruling Liberal Party on Monday (September 14) voted out Tony Abbott in favour of longtime rival Malcolm Turnbull, following months of infighting and crumbling voter support.
Turnbull, a multi-millionaire former tech entrepreneur, won a secret party vote by 54 to 44, Liberal Party chief whip Scott Buchholz told reporters after the meeting in Canberra.
Australia is set to hold elections before the end of next year, and Turnbull told reporters he had no intention of calling an early poll to cement his legitimacy.
"I'm very humbled by the great honour and responsibility that has been given to me today," an ebullient Turnbull told reporters during a late-night press conference.
"This will be a thoroughly liberal government. It will be a thoroughly liberal government committed to freedom, the individual and the market. It'll be focused on insuring that in the years ahead, the world becomes more and more competitive and greater opportunities arise, we are able to take advantage of that. The Australia of the future has to be a nation that is agile, that is innovative, that is creative, we cannot be defensive, we cannot future proof ourselves. We have to recognise that the disruption that we see driven by technology, the volatility in change is our friend, is our friend if we are agile and smart enough to take advantage of it," Turnbull said.
Foreign Minister Julie Bishop, who was elected deputy leader of the party which, with junior coalition partner the National Party, won a landslide election in 2013.
"It's a great honour to be elected as deputy of this party again. I have served as the deputy for eight years and I have also for the last few years, had the honour of being Australia's Foreign Minister. I'm exited about continuing to serve as the deputy under Malcolm Turnbull's leadership and I am thrilled at the prospect of continuing to serve the Australian people as the Foreign Minister," she said.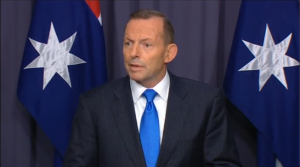 Abbott had earlier pledged to fight the challenge from Turnbull, but was ultimately unsuccessful in overcoming the "destabilisation" that he said had been taking place within the party for months.
He walked stony faced out of the party room following the vote and did not speak to reporters.
Abbott ousted Turnbull as leader of the Liberal Party in 2009, though Turnbull has consistently been seen as a preferred prime minister. However, Turnbull's support for a carbon trading scheme, gay marriage and an Australian republic have made him unpopular with his party's right wing.
The challenge came as Australia's $1.5 trillion economy struggles to cope with the end of a once-in-a-century mining boom and just days before a by-election in Western Australia state widely seen as a test of Abbott's leadership.
Abbott emerged badly weakened from a leadership challenge in February, which came about after weeks of infighting, and pledged a new spirit of conciliation.
But he and his government have since consistently lagged the centre-left opposition Labor Party in opinion polls, helping fuel speculation over how long his party would give him to turn things around.
Abbott earlier dismissed reports about a challenge as "gossip", saying he refused to play "Canberra games".
Abbott has continued to defy popular opinion inside and outside his party, despite pledging to be more consultative, blocking his MPs from supporting same-sex marriage and announcing an emissions reduction target criticised as inadequate by environmental groups.
Turnbull declined to say whether he would honour Abbott's pledge to hold a public referendum on gay marriage. On climate change, a prickly issue within the Liberal Party, he told reporters he supported the emissions target set by Abbott.
Abbott agreed last week to take in 12,000 Syrian refugees, but that news was overshadowed by rumours of a cabinet reshuffle and an insensitive gaffe about climate change, caught by a microphone at a meeting, by Immigration Minister Peter Dutton.
A Fairfax-Ipsos poll published on Monday showed that voters in the seat of Canning in Western Australia could deliver a swing of up to 10 percent against the government in Saturday's by-election.
The outcome of that vote, which had been expected to be a referendum on Abbott's leadership, will now be closely watched as a sign of Turnbull's chances of reversing the government's fortunes.