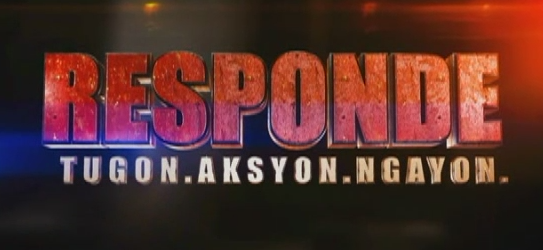 "Tugon. Aksyon. Ngayon."
These three words serve not only as a tagline; it is the solemn promise of Net 25's new public service program, RESPONDE.
And these three now familiar words that have served as the tagline of this program have also become a byline in public service.
RESPONDE may not be the first of its kind in the local broadcasting industry and there exists many public service oriented shows in Philippine Television right now.
And while each and every one of these programs does their share of contributing to alleviate the vacuum of public service between the Filipino citizen and the various government agencies, what sets aside RESPONDE and makes it different is that it emerges as a program that devotes time in actually finding solution and resolution to a case.
With RESPONDE, you now have a new partner that is always ready to help you in your time of need.
Just remember our promise:
"Tugon" – we will always respond to your need.
"Aksiyon" – we will not rest until we find a solution to your problem.
"Ngayon" – we will do what we can, not as soon as possible, but right now!
In RESPONDE, these three words are our guidelines, guaranteeing that our every action is dedicated, focused and take into consideration the urgency of each case.
We may not be the first, but RESPONDE has definitely set new standards that every public service program now strives to achieve.
RESPONDE is headlined and anchored by seasoned broadcast journalist, Onin Miranda.
Net 25's new public service program, RESPONDE
Catch it every Wednesday, from 8:00 to 9:00 in the evening.
Latest Videos
[Youtube_Channel_Gallery feed="playlist" user="UU5jMLtV83dCUOxzYpNDElNA" videowidth="320″ ratio="16×9″ theme="light" color="white" autoplay="0″ rel="1″ showinfo="1″ maxitems="8″ thumbwidth="183″ thumbratio="16×9″ thumb_columns_tablets="4″ title="1″ link="1″ key="AIzaSyC-eGvbcfsubq_qEA6LJiCaTUarmOQc8l4″]