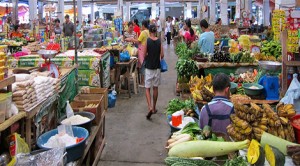 QUEZON City, Philippines (September 16) – The public market; a place where people can find jobs, low-priced products, and even temporary shelter, has been one of the most common sources of income for the poor through the years. Vendors, whether illegal or not, are free to sell their goods within the premises to earn for a living. But what will happen if the government privatize these markets and place it in the hands of a management firm? This is a situation that Manila is facing right now.
Manila city mayor Joseph "Erap" Estrada entered a joint venture agreement with Marketlife Management and Leasing Corporation Inc. (MMLC), to renovate and modernize the Quinta public market; one of the many public markets in Manila. This is only one of the 17 public markets that Estrada aim to privatize under Ordinance No. 8346 which states that private firms will own public markets and provide their capital for 25 years. Thousands of vendors protested against this act and said that most of them will lose their jobs when this is implemented, but Estrada denied in an interview that there is no privatization that will happen. The public markets will still be managed by those who are in charge but with the help of the firms for they will provide their capital. He also made it clear that those who have places inside the market will not be evicted.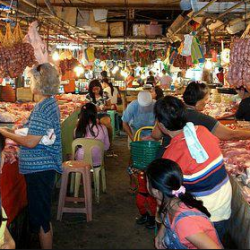 Vendors, however, believe that it is a form of plunder because of the lack of public consultation and worry about MMLC's capability of providing for the Quinta market. Since Estrada had his fair share of corruption stories, we could not blame the vendors for doubting his intentions. The fact that he will let private firms manage these public markets is really questionable, considering that they neither have the background nor the budget for providing the capital and managing a public market. Modernization is good but why ask companies for help? The city government has enough money to cover the expenses and there are many projects and sources where Estrada can get funds from. In fact, as of 2014, Manila became the second-fastest rising economy in Asia according to The Diplomat. Then there is the problem with the stall fees that may rise because of the renovation. When this happens, most vendors will be forced to sell on the sidewalks and other illegal places for they would not be able to afford it. This can also affect the consumers for other vendors who would be able to comply would have to raise the price of the goods. Also, according to the group of market vendors who filed a graft complaint against Estrada, that he violated the Republic Act No. 3019 that states that "it is the policy of the Philippine Government, in line with the principle that a public office is a public trust, to repress certain acts of public officers and private persons alike which constitute graft or corrupt practices or which may lead thereto". This act, along with other policies are violated by the promulgation of Ordinance No. 8346.
Instead of privatizing these public markets, why didn't the mayor focused on the sidewalk vendors who are scattered on the streets? Because of them, traffic is unavoidable, and with the present issue about a heavy traffic along EDSA, removing them and providing a proper place for them to sell would be a good way to solve it. Through this, he will be able to hit two birds in one stone. Furthermore, entrusting a public property on private firms is not the solution to provide for its funds for there are many ways to collect money through projects and taxes. Renovating the markets, however, is a good idea for sanitary purposes and also to improve its image to the public.
Manila is known for its public markets and has a reputation for discounted goods, but if the city government implements its privatization, the number of vendors will lessen, which will result to less consumers and this will affect the city's tourism development. Estrada may or may not be doing this for the betterment of the city, but one thing is for sure, this move will not be taken well by the vendors and the general public.
(written by Carissa Lazaro, edited by Jay Paul Carlos, additional research by Lovely Ann Cruz)