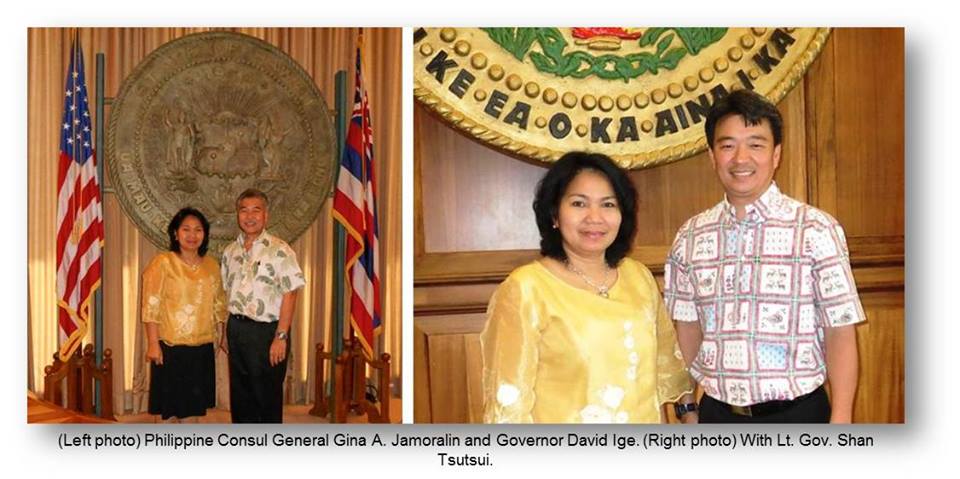 Philippine Consul General Gina A. Jamoralin made a courtesy visit on Hawaii Governor David Ige and Lt. Governor Shan Tsutsui at their offices at the Hawaii State Capitol on December 17.

Consul General Jamoralin congratulated Governor Ige on his inauguration as Hawaii's 8th governor last December 01. Consul General Jamoralin attended the Governor's inauguration party on December 05. She thanked Governor Ige for the offer of assistance following the onslaught of Typhoon Hagupit. Governor Ige was the first to respond and offer his assistance to the Philippines.
Consul General Jamoralin and Governor Ige also talked about the Governor's action plan, in which he emphasized the development of the economy and health care. Consul General Jamoralin noted that the Philippines and Hawaii would mutually benefit from tourism development. Governor Ige observed that the Filipino population in Hawaii is the fastest growing ethnic group and said that he looks forward to working with the Consulate General on matters involving the Filipino community in Hawaii.
After the call on Governor Ige, Consul General Jamoralin called on Lt. Governor Shan Tsutsui at his office and congratulated him for his re-election as the 12th Lt. Governor of Hawaii. She shared that the Consulate General regularly conducts outreach services to Maui, the Lt. Governor's birthplace, due to the presence of a large Filipino community there.
Consul General Jamoralin also expressed appreciation to Lt. Gov. Tsutsui for his participation in the Hawaii-Philippines Trade Mission in 2011. The Lt. Gov. is again scheduled to participate in the Trade Mission slated for February 2015. Lt. Gov. Tsutsui said that he looks forward to the Trade Mission and to working again with the Consulate General
Department of Foreign Affairs Republic of the Philippines