QUEZON City, Philippines (Eagle News Service, June 1) – Every elementary student knows about this tourist spot, the famous Pagsanjan Falls in Laguna.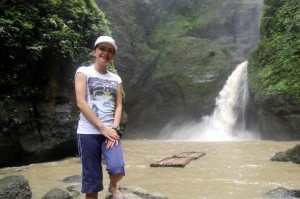 The 91-meter falls possesses a rugged beauty. One can take a scenic one-hour boat ride to visit Pagsanjan. Plying the Bumbungan and Balanac rivers on your wooden canoe, you can take in the beauty of native trees, vines and wildlife.
The river ride back down is even more exciting as your wooden canoe goes swiftly by, sped along by fourteen rapids.
(ENS, written by Jay Paul Carlos, additional research by Khryss Leanne Omnes, photos by Landmarks, photos captured by Lovely Manabat)