QUEZON City, Philippines (October 12) – We customarily use social media sites particularly facebook, twitter or instagram to express our thoughts and emotions, and one of our many ways of telling those thoughts and showing our emotions are "memes" (pronounced mim / meem).  A "meme" has been defined as an idea that is usually being expressed and mostly shared by an individual to other people as a way of communication with each other or with others. Memes are basically description of the emotion of your face that you can't really describe nor explain exactly through words. Memes are like words and different sort of emotions combined in one image just like what they said, "Your life / your emotions described in one picture".
In the article published here entitled "MEME 101" you already saw some of the memes gathered from different real "face" of real people while in this article, we'll give you the popular "stick" memes [like stick drawings]  here they are: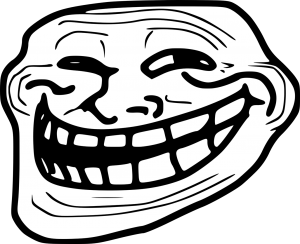 TROLL memes – Apparently the start of it all and is believed to be the father of meme images. Troll memes are just a nature of trolling as a "cop-out" before, after it was released by a blogger named Whynne. Now you know, honestly before, I thought this meme came from a movie because this one looks like Jim Carey in The Mask movie, right??? Well, yes, looks like it isn't. The purpose of this meme is originally just to trigger intense levels of LOL (laugh out loud) in many individuals and to cool down any situation. But unfortunately, the essence of this meme isn't around anymore for this meme is already being used by people on the internet to prank, to LULZ (corruption of LOL) or to laugh at someone else's expense that can be considered as "more of a humiliation than a humor".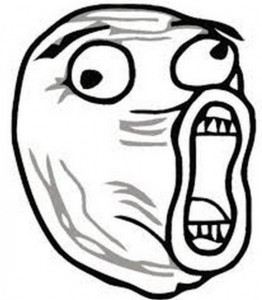 LOL GUY meme – Next to the father, here comes the son. After posting an untooned LOL GUY photoshopped photo of the creator himself, he draw a cartooned version of it. The creator uploaded the first LOL guy picture featuring a customer attempting to return a fake Pokemon game cartridge to the EB Games store. This picture received 155 votes and comments from the readers and eventually became one of the memes that can be generated online and became one of the popular memes all over the world. So if you feel like you want to Laugh your lungs out or want to express your amusement over something LOL GUY is the best meme for you!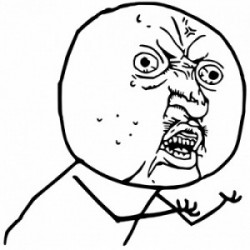 "Y U NO _______?" GUY meme – this meme's purpose is to bring someone's attention on a particular subject or issue. This meme character believed to originate from a manga series entitled GANTZ (Feb. 2002) where frustration and rage over something can be seen from the character's expression. Another instance is the occurrence of the "Y U NO" phrasal template that was first posted in LOLTumblrWallpapers that says "I TXT U, Y U NO TXT BAK!?" which gained over 10,000 likes and reblogs on tumblr! Those people surely don't want to see an "I POSTED MAH PICTURE, Y U NO LIKE!?" template posted on their accounts.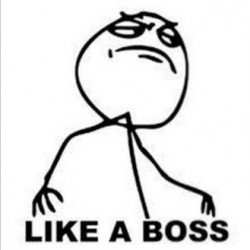 LIKE A BOSS meme – is showing a person completing an action with authority and finesse or a successful actions or things the person is proud of doing. The characters in this meme have an air of superiority and do not care how others perceive them, similar to the phrase "haters gonna hate". The conceptual phrase of this meme image ["LIKE A BOSS"] was derived from The Lonely Island's single "Like A Boss".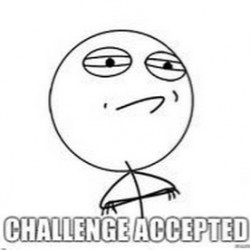 CHALLENGE ACCEPTED memes – This meme with crossed arms and a smug facial expression is commonly used to show that the person is ready and willingly want to attempt completing a very difficult task [sometimes the impossible ones]. The conceptual phrase was adapted from the "Challenge accepted" catchphrase of the Barney Stinson character in a tv sitcom entitled "How I Met Your Mother" while the first phrasal templates was identified to be posted in a thread which included two challenge accepted examples. Other meme phrasal template related with this Challenge Accepted meme are the "challenge considered" meme which is used to show that a task is being considered and the other one is the "challenge denied" which obviously shows that a task has been rejected.
So whenever you feel something and wanted to express it in facebook or twitter, instead of ranting and saying all the details of your current mood or feeling why not use memes? It will summarize your feelings without the worry of making a scandalous scene in social media! Life is less stressful with memes! Whatever you feel, always remember to use memes. It is fun you know!?
P.S. For Your MEMEformation
A meme is "an idea, behavior, or style that spreads from person to person within a culture". The word "meme" is the shortened term of mimeme, meaning "imitated thing" like miming, mime, or mimicking. We mentioned a while ago if you noticed that memes are like the miserable side of our emotions but shown in a lighter and funnier way. If you see a mime artist, instead of crying over the drama that he is doing, you will instead laugh—just like the idea of memes. For me, generating or creating a meme is like a subtle and lighter imitation of things.
The "meme" idea was coined in a book by Richard Dawkins in The Selfish Genean(1976) that primarily explains that "meme" is similar to a "gene" that is being transmitted and passed through generations, spreads throughout culture, and mutates.
He writes:
"Examples of memes are tunes, ideas, catch-phrases, clothes fashions, ways of making pots or of building arches. Just as genes propagate themselves in the gene pool by leaping from body to body via sperms or eggs, so memes propagate themselves in the meme pool by leaping from brain to brain via a process which, in the broad sense, can be called imitation. If a scientist hears, or reads about, a good idea, he passed it on to his colleagues and students. He mentions it in his articles and his lectures. If the idea catches on, it can be said to propagate itself, spreading from brain to brain."
So, "memes" have always existed as well as the idea of the fact that some things can be transferred, it's just that the idea of meme hasn't been around in the past years before Dawkin's Book was published.
SOURCES:
http://knowyourmeme.com/forums/meme-research/topics/11375-wherehow-did-memes-actually-start
wikipedia.org
Olivia Gulin original gangster – knowyourmeme.com
tumblrbot – knowyourmeme.com
http://knowyourmeme.com/memes/y-u-no-guy
http://knowyourmeme.com/memes/lol-guy
http://knowyourmeme.com/memes/like-a-boss
photos grabbed from:
http://knowyourmeme.com/photos/83837-y-u-no-guy (manga comics)
http://knowyourmeme.com/photos/74586-y-u-no-guy (i txt u y u no txtbk image)
http://knowyourmeme.com/photos/505292-lol-guy (lol guy – pokemon)
http://knowyourmeme.com/photos/505301-lol-guy (untoonedlol guy)
http://i3.kym-cdn.com/photos/images/original/000/266/158/d8b.png
http://i3.kym-cdn.com/photos/images/original/000/198/676/challenge-denied-rage-face.jpg
(written by Donna Marie Rodriguez, edited by Jay Paul Carlos, additional research by Lovely Ann Cruz)