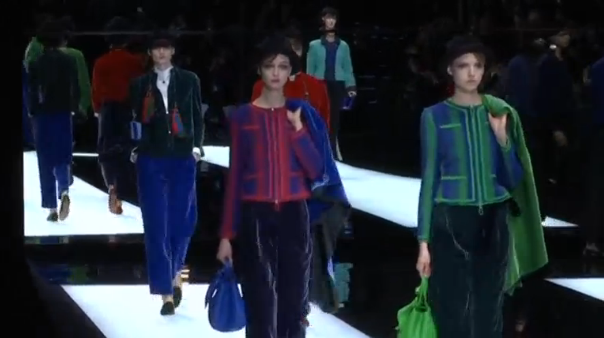 MILAN, Italy (Reuters) — Italian designer Giorgio Armani stunned with bright and eloquent colours as he brought to a close six days of catwalk shows and events at the Milan Fashion Week on Monday (February 27).
The 82-year-old designer brought his creations to life with ruby and deep reds, purple, orange, emerald green, turquoise, petrol and electric blue, as well as multicoloured polka dots as he had already done in his Emporio line, presented on Friday (February 24).
Black velvet and silk was enriched with fun tassel and pom pom details and necklaces, fringes and strings of coloured beads and sparkling sequins, which gave life to the sharp but elegant lines of the garments.
The collection also showcased big mohair coats and tops and capes in acidic green and black.
Armani showed his playful side with dog shaped patterns on knitwear and jackets and with the addition of puffs and frills on sleeves and at the bottom of tops and skirts, hinting at the Pierrot mask.
Models carried big fur bags and wore small bowler-type hats and flat shoes in velvet or polished leather.
A style note said that the collection offered a new interpretation of the classic Armani style, being subtly irreverent.
But "King George" kept true to his style of dressing his women with geometries, both in the cut and in the patterns, making each piece an expression of graphics or architecture.
Tops were sculpted by pleats, jackets and tops were asymmetric, skirts were panelled, and big shawls were draped to form cascades.
Models walking down the shiny black runway gleamed in fluid trousers that merged into skirts or with big frontal flaps, matched with clean-cut jackets, furs, quilted vests and long textured cardigans.
On Friday the Italian fashion group announced it would incorporate its Armani Collezioni and Armani Jeans lines into its Emporio Armani brand.