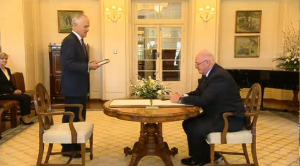 (Reuters) — Malcolm Turnbull, an urban former investment banker who supports marriage equality and action on climate change, was sworn in as Australia's 29th prime minister on Tuesday (September 15), a day after ousting longtime rival Tony Abbott in a party room coup.
Turnbull, a Rhodes Scholar who previously led the Australian Republican Movement, was sworn in by Cosgrove, the representative of Britain's Queen Elizabeth, Australia's head of state.
"Mr. Turnbull, I invite you to take the oath of office as Prime Minister," said the Governor-General of Australia, Sir Peter Cosgrove.
"I Malcolm Bligh Turnbull, do swear that I will well truly serve the people of Australia, the office of Prime Minister and that I will be faithful and bear true allegiance to Her Majesty, Queen Elizabeth II, the Queen of Australia, so help me God," said Turnbull.
"I now invite you to subscribe the oath of office," added Cosgrove, as both sat down to sign.
The Liberal Party voted in a secret ballot late on Monday (September 14) and ousted Abbott as the leader of the senior party in a ruling conservative coalition in favour of Turnbull, a multi-millionaire former tech entrepreneur who is popular with the electorate.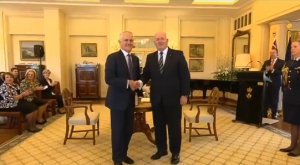 Turnbull's Liberal Party and its junior coalition partner the National Party won a landslide election in 2013 but Abbott was jettisoned by his party after a series of perceived policy missteps and destabilising infighting.
Turnbull had previously been unpalatable to his party's right wing because of his progressive views on climate change, same-sex marriage and making Australia a republic.
However, Abbott's dismal performance and over-reliance on slogans to sell his major policies, including a hardline approach to refugees, wore down internal opposition to Turnbull.
Australia has in recent years been convulsed by backroom machinations and party coups that have shaken public and business confidence in government.