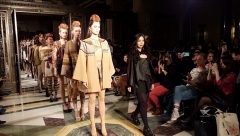 By Love Ann Sison
EBC London Bureau
(Eagle News) — London Fashion Week brought fresh new collections from multi-award winning Filipino designer, Happy Andrada, at Fashion Scout which is United Kingdom's largest fashion showcase for emerging & established design talent.
It was held on February 18 at Freemason's Hall, one of the finest art-deco buildings in the UK and popular for its fine backdrop for fashion shows.
Sophisticated models gracefully walked the runways to the sound of tribal drums as they showcased Happy's unique collection of outfits celebrating tribal culture and ancient crafting traditions, applied in contemporary silhouettes and wardrobe staples.
Detailed hand embroidery was evident with mohawk headdresses, embossed surfaces, pom-poms and feather earrings worn to complement the outfits. It was a collection that highly recognized Happy Andrada's background and heritage, turning traditional craft into contemporary style with digitally printed sunsets on A-line coats.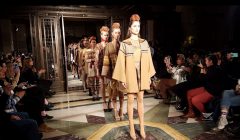 Shades of beige contrasted with dark plum, deep red and brown details dominated the garments. The details were faultless, with even the tights being embroidered. The collection gave an authentic feel with local Filipino sourced from tribes like pineapple cotton, bamboo and even recycled plastic. With these raw and natural resources being paired with lace and intricate shoulder details for example, the garments are ready to be worn on the cosmopolitan streets.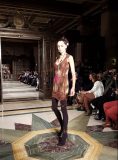 Happy Andrada has been doing fashion shows for more than a decade now, taking part at a global level. She went to Central Saint
Martins College in London and has gone on to win multiple awards since including Artist of the Year 2016 at the International Fashion Art Biennale Korea.
When asked what would be her advice for people starting out in fashion, "Study Fashion and learn your personal identity as it makes you an individual. Because no one can be you, practice and try your best in everything you do" explained by the young designer.
Meanwhile, Happy being able to do an international solo debut in London as part of Fashion Scout is a huge step for Philippine fashion.
Fashion Scout helped launch careers for designers like Peter Pilotto and David Koma into the limelight, so Happy's career is expected to reach greater heights!   (Eagle News Service)