QUEZON City, Philippines (December 14) – Aside from the President and the Vice President, what we called the Cabinet or "Gabinete" is also part of the executive branch of the Government. They serve as the alter ego of the President and they exercise power and authority in their respective offices or departments.
The President is the one who can choose or nominate a Cabinet secretary for his or her respective office but it should have the consent of the Commission on Appointments.
In Article VII Section 16 of the 1987 Constitution of the Philippines, it's stated that:  "The President shall nominate and, with the consent of the Commission on Appointments, appoint the heads of the executive departments, ambassadors, other public ministers and consuls, or officers of the armed forces from the rank of colonel or naval captain, and other officers whose appointments are vested in him in this Constitution. He shall also appoint all other officers of the Government whose appointments are not otherwise provided for by law, and those whom he may be authorized by law to appoint. The Congress may, by law, vest the appointment of other officers lower in rank in the President alone, in the courts, or in the heads of departments, agencies, commissions, or boards." (www.gov.ph)
An individual can be an acting secretary temporarily while waiting to be confirmed for his or her position. The President can appoint anyone to cabinet posts even if the Congress is in recess or put "on hold". These appointments remain valid until the Commission on Appointments disapproves them or in the end of the next session in Congress.
From the highest rank of Executive Secretary, there's also nineteen other Cabinet Secretaries appointed to head the different Executive Departments. Those individuals who are chosen to be a cabinet secretary or head should obey and respect the decisions of the President. However, those appointed Cabinet secretaries and heads are usually related or connected to the President, so that there will be a low possibility of trust issues and misunderstandings on the way.
Recently, Vice President Leni Robredo made a controversial move, when she resigned as the Chair of Housing and Urban Development Coordinating Council (HUDCC). This is after she received a text message allegedly relayed from President Duterte ordering her to stop attending all the cabinet meetings.
The resignation came after all the criticisms Robredo made, not only on President's war on drugs, but also on the Duterte's assent on the burial of former President Ferdinand Marcos in the Libingan ng mga Bayani.
Jun Evasco was appointed to replace the position of VP Leni as the chair of Housing and Urban Development Coordinating Council (HUDCC). The HUDCC is the highest policy-making body for housing.
The current members of the Cabinet of the Philippines under President Rodrigo Duterte are: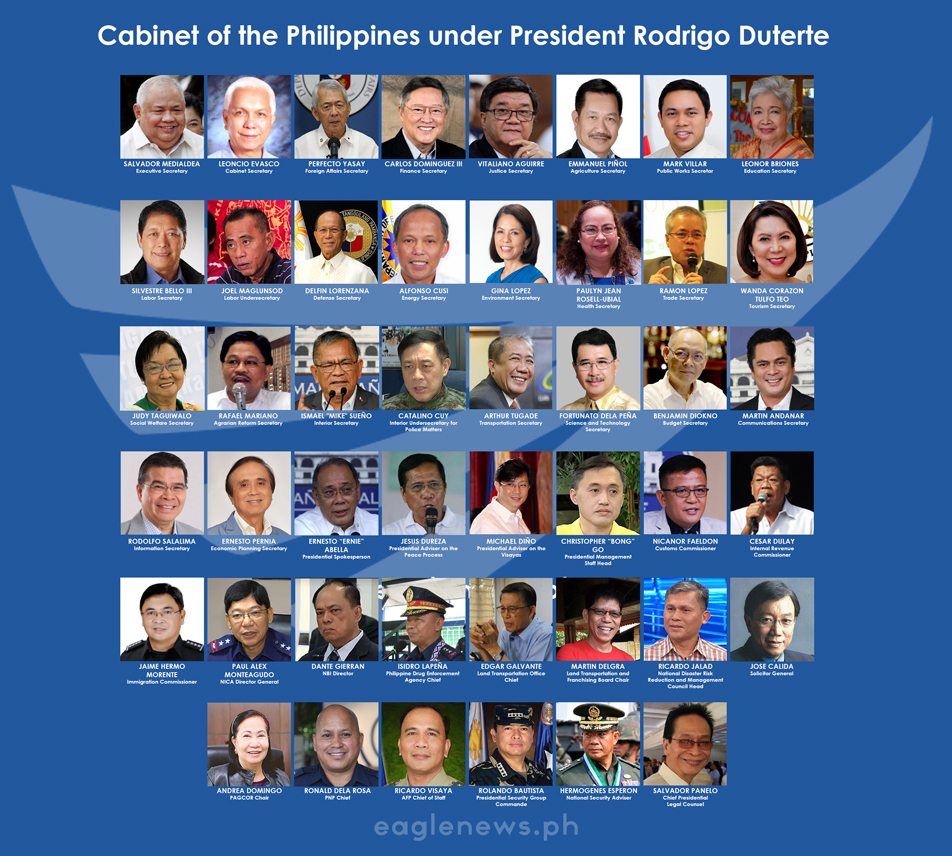 www.inquirer.net
http://newsinfo.inquirer.net/
(written by Francis Albuen, edited by Jay Paul Carlos, additional research by Vince Alvin Villarin)