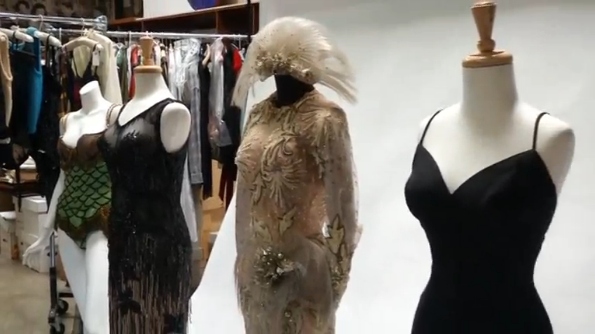 LOS ANGELES, CALIFORNIA, United States (Reuters) – The world's largest private collection of Marilyn Monroe memorabilia will go up for auction in November, with stage costumes from movies "Some Like it Hot" and "There's No Business Like Show Business" expected to fetch up to $400,000.
Julien's Auctions said that the collection, owned by Briton David Gainsborough Roberts, is conservatively valued at around $3 million. As well as several costumes and personal wardrobe pieces owned by Monroe, the collection includes posters, jewelry, personal prescriptions and other items.
"We will be featuring personal items from her life. It's a very intimate look at Marilyn Monroe. We'll have personal items, documents, we have some of the most iconic film costumes that will be represented," said Julien's Auctions fashion and costume specialist, Jennifer Lorenzi.
Highlights of the auction include the sheer black and nude beaded cocktail dress Monroe wore in "Some Like it Hot" in 1959 while singing on top of a grand piano. It's expected to sell for $200,000 – $400,000.
The silver and white beaded dress she wore in the 1954 musical "There's No Business Like Show Business," is estimated at $100,000 – $200,000, while the green satin leotard Monroe wore in "Bus Stop" could sell for up to $100,000.
Marilyn Monroe, who would've turned 90 in June, is one of the most sought-after celebrities for collectors. The billowing ivory "subway" dress she wore in "The Seven Year Itch" sold for a stage costume record of $5.5 million in 2011.
The auction is set to be held in Los Angeles on November 19.